Catalogs give a little insight in brass production from 1955 onwards. There is a 1958 catalog, in English, maybe targeted at the US market, with models named De Luxe, Toneking and Super de Luxe.
A 1959 catalog in German shows a cornet and trombone on the cover and a trumpet and trombone with their cases. I haven't found the instrument pages yet.
Almost the same catalog (a few pages more) from Januar 1969 has prices that are 10% up. The reason: the introduction of a 10% VAT in Germany on 1-1-1968. The black-and-gold versions are there but no longer as a novelty.
Gaby Kerrmann from the Keilwerth marketing department in 2004 came up with some pages of what I suspect is the same catalog, she said was probably from the late sixties. It has handwritten prices, that are approximately half of the printed prices above. The printed prices are for consumers (as VAT is explicitly included), maybe the handwritten prices were meant for the retailers.
Toneking, De Luxe 2000 and Super de Luxe 2000 are the model names for trumpet, cornet and flugelhorn, De Luxe 2000 and Super de Luxe 2000 the trombone models in this catalog. Although for sax and flute a Student model is listed, there is no brass with this name. The list states the prices for retailers (Netto-Einkaufspreise). Comparing the (late) sixties catalog with the ca. 1979 one shows us that a gold lackered Toneking trumpet went for DM 114 in the sixties, in the 1979 catalog it was priced DM 244. Assuming that the handwritten prices in the sixties catalog also are meant for the retailers, the difference would be more or less in line with inflation rates. Note: the catalog explicitly states that the Böhm metal flutes in C 'Julius Keilwerth made in USA' are made in Elkhart/USA for Keilwerth. Nothing about other instruments being foreign make.
An undated leaflet sold on Ebay by a Polish seller in October 2014, advertises the Keilwerth Student model. Besides trumpets there are saxophones, trombones, clarinets and flutes of the Student model offered. The leaflet went together with two other leaflets, one for 'Toneking' and one for 'Toneking Exclusive' saxophones. The Exclusive model came in 1982 as topmodel, so these leaflets should be from that period of time. I don't know if this was the complete Keilwerth brass program at the time, there are Toneking and Toneking de Luxe trumpets in the same serial number range.
Trompetenforum member 'Guenni' in 2005 also said he had a Keilwerth flyer from the early eighties with the trumpet program, where the Toneking de Luxe 2000 was the top model. Trumpetherald member 'Gus' even stated in 2003 to have a catalogue from 1988. 'Gus' visited the factory in 1989, bought a trumpet and talked with Mr Keilwerth III (this must have been Gerhard Julius Keilwerth) who told him that Mr Keilwerth I started in Jugoslavia (should be Czechoslovakia, ed.) and after the war they moved to Germany. At that time Mr. Keilwerth III told him that they were cutting trumpet production to concentrate in sax. There is a Student trombone that was bought in December 1989.
But, as Gus said: "I do not know if the trumpet is a true Keilwerth". Although Keilwerth sold trumpets in the 80's, it's pretty sure that they didn't make them anymore by then.
Note: in the 70's catalog Toneking and 'Julius Keilwerth' are marked as a registered trademark (®) , in the 80's catalog 'Julius Keilwerth' is a registered trademark. In the 60's catalog the JK logo with the crown is used prominently, in the 80's the crown still appears on instruments but without the JK.
There are a few rare Keilwerth birds that have a date as well. First the Keilwerth Toneking 3000 Jazzophon, a sax shaped trumpet. In an e-mail from Gerhard Julius Keilwerth to Jim Glass in 2009/2010 about the production of the Keilwerth Toneking 3000 he dates these between 1982 an 1986:
Uwe Ladwig, in his book 'Saxophone', on the other hand states that the Toneking 3000 was made in the seventies. His source, he says, was also Gerhard Keilwerth. Maybe both statements are true, as there is quite a gap between the serial numbers of the several Toneking 3000 instruments, see below. The one with serial number 27963 seems to be an outlier, the other known instruments having serial numbers 306856, 312250 and 312600. Those numbers fit well in the 1982-1986 (Blessing) period and the Toneking 3000 name is congruent with the Toneking 2000 series of that time. The 27963 has a lot of similarities with the other Keilwerth instruments in that number range, so it might be made in Nauheim, whereas the others might be of Blessing origin.
In the 60's Keilwerth also made a Dizzy Gillespie style trumpet for Dizzy, according to Janis Edvards Strupis from Australia, who remembers that there was a flyer showing Dizzy and this trumpet coming with his 1966 Super de Luxe Keilwerth.
One other 'dated' Keilwerth instrument is a sousaphone, the only one so far known to bear the name Keilwerth. It was built in 1978 and is engraved: "ESPECIALLY MADE FOR JOHN ARTHY BY Julius Keilwerth NAUHEIM 20.1.1978". Arthy was a founder, bandleader and bass player of the British Pasadena Roof Orchestra. He sold it in 1986 to a Swiss gentleman who sold it in May 2014 on a Swiss auction site for 510 Swiss Franks. It is suggested on Tubenet that it might be a Böhm and Meinl stencil. It has serial number 77539 and that would fit reasonably in some other known B&M numbers. Böhm and Meinl was company established in 1948, in Geretsried, near München, which was purchased in 1992 by Walter Nirschl. They made B&M-branded instruments in both the German and American styles, and also made York Master and many Marzan-branded instruments.
Keilwerth sousaphon especially made for John Arthy, 1978. Source: Ricardo.ch Right: Bohm & Meinl sousaphon, source: HUC
Then there is a Julius Keilwerth tenor horn. It was offered on Ebay.de by a seller from Nauheim, who says he obtained it from a legacy. The way Julius Keilwerth is engraved reminds of the early De Luxe models so I would date this one in the mid fifties. It might be a prototype or an instrument from another maker that was branded Julius Keilwerth.
Horn-u-copia also mentions a 'Keilwerth' soprano trombone (or slide trumpet) without futher details.
Keilwerth brass instrument models

The catalogs and the information collected in the serial number list below gives the following overview of Keilwerth brass instrument models. Keilwerth didn't make rotary valve instruments and no other brass instruments than trumpets, cornets, flugelhorns and trombones.

The main brass model names were the Toneking, the (Toneking) de Luxe and (Toneking) Super de Luxe, later with the '2000' extension.
Keilwerth brass instrument models

(and some saxophone models as a reference)

early years, 1955 onwards

1958 catalog

1967/1969 catalog

1979 pricelist

1980's flyer
other

Trumpet

Toneking

Toneking

Toneking

Toneking

Student
Modell AT

Toneking de Luxe

Modell ST (as of 1989?)

De Luxe

De Luxe

De Luxe

De Luxe 2000

Toneking de Luxe 2000

Super de Luxe

Super de Luxe

Super de Luxe

Super de Luxe 2000 (Bb&C)

Toneking Super de Luxe 2000

The New King

Julius Keilwerth
Broadway King

Superba 1 (somewhere between 1965 and 1986)

Superba 2

( between 1965 and 1986)

Toneking de Luxe 3000 (Jazzophon)

Toneking Exclusive

Cornet

Toneking

Toneking

Toneking

Julius Keilwerth

De Luxe

De Luxe

De Luxe 2000

Toneking de Luxe 2000

Flugelhorn

Super de Luxe 2000

Toneking Super de Luxe 2000

Trombone (slide)

The New King

Toneking

Toneking

Student
Modell ST (as of 1989?)

The New King de Luxe

De Luxe

De Luxe

De Luxe

Modell SX (as of 1989?)

Super de Luxe

Super de Luxe

Super de Luxe

Super de Luxe 2000

Toneking de Luxe 2000

Super de Luxe 2000 R (with rotary valve)

Toneking Super de Luxe 2000

Trombone (valve)

Toneking de Luxe

De Luxe

De Luxe

Super de Luxe

Super de Luxe

Super de Luxe 2000

Toneking Super de Luxe 2000

Trombone (valve and slide)

Toneking Super de Luxe

Saxophones *
Graslitz, 1940's
Nauheim, 1960's
1979
1980's
other
King
Student (as of 1968)
Student
ST90 (as of 1991)
The New King
The New King (till 1970)
Toneking
Toneking
EX90 (as of 1988)
Toneking
Toneking
Toneking Special (late 60's onwards)
Toneking Special
Toneking Exclusive (as of 1982)
SX90 (as of 1988)

ST90II (as of 1992)

Toneking Solo

P.Ponzol (as of 1987)

SX 90 R (as of 1993)
* the discussion about the system and the logic in Keilwerth sax modell names is a difficult one.
There are a few examples of a The New King trumpet (with early serial numbers: 0048 and 1468 or without and one - in black and gold - with a late 60's serial number). These have quite a different engravings, the one flowerish, the other straight. They seem to be the quite similar to the early Toneking instruments and until now are only reported from UK, Australia and Norway. I also found a reference to a Julius Keilwerth The New King de Luxe trombone and a The New King trombone with serial number 21. The New King was a model name used for JK saxophones from before WWII until 1970.
There's one example of a Keilwerth trumpet branded Broadway King, serial 337. It showed up in Australia.
There are quite a few Keilwerth 'Student' trumpets and 'Student' trombones known. The Student instruments are described as the most economically priced model in the Julius Keilwerth program, and therefore especially suited to students and beginners. The Student saxophones and flutes (but no Student trumpet/trombone) appear together with De Luxe 2000 and Super de Luxe 2000 instruments in the catalog with the 1979 pricelist. The Student model in saxophones is dated between 1968 and 1988 by Uwe Ladwig. In the 1980's flyer Student trumpets, trombones and saxophones and flutes are offered. Although serial numbers for Student trumpets and trombones are in between those of the Toneking and the Toneking 2000 series, I believe they were made in the 80's, after the Toneking (de Luxe) 2000 instruments. I believe both the Student and the Toneking 2000 instruments were supplied by other makers than Keilwerth, using the serial numbers of those makers. For the '2000' instruments that maker probably was Blessing, they are pretty identical to the Blessing Scholastic. Like the Toneking de Luxe 2000 cornet. The Blessing serial number list would date that one to 1971. For the Student instruments I'm not sure but B&S/Weltklang might be a candidate. The Student saxophones in the 70's and 80's were first made by Amati, and then by B&S, according to Helen Kahlke.
A trumpet, a trombone and a flugelhorn are just named 'Julius Keilwerth'. They are amongst the latest Keilwerth brass instruments
Then there are rare examples named Modell AT (trumpet) Toneking Exclusive (trumpet) and Modell SX (trombone). A Modell ST trumpet was bought in 1990, a ST trombone was mentioned in a Spanish Ebay-ad. Exclusive, SX and ST were also saxophone model names from the end of the eighties, for the AT model name I have no clue.
The Keilwerth instruments were for a long time marked 'Made by Keilwerth, Germany' and not 'BRD' or 'West Germany'. The use of BRD was discouraged by the authorities of the Federal Republic of Germany itself, because it was considered to be derogatory (GDR) jargon. The term was not banned by law, but its use was discouraged. The trumpets in the 200.000 range are marked Julius Keilwerth W Germany. In 1973, the Bundesgerichtshof made a ruling that Made in Germany does not enable people to properly distinguish between the two Germanys of the time, so 'Made in West Germany' and 'Made in GDR' became popular.
Design: King Super 20 replica
The Keilwerth (Toneking) de Luxe trumpet seems to be a replica of the late 40's H.N. White Cleveland King Super 20 trumpet, which according to some sources was admired by Julius Keilwerth. The King Super 20 trumpets appear in the H.N.White catalog as of 1946 and remained unchanged until the company was sold in 1965.

King Super 20, 1947 serial number 295886

Keilwerth De Luxe ca 1955 serial number 1104

King Super 20 Symphony Silversonic 1966 serial number 415937,

Keilwerth Toneking de Luxe ca 1965 serial number 12369
The Keilwerth trombones are stated to be Olds clones.
Keilwerth stencils branded otherwise
Keilwerth used at a certain point instruments made by others, but they also made/sold instruments that were marketed under different other names, so called stencils. These instruments were mainly sold in the VS and Canada.
Kenwood
A 'Made by Keilwerth' trumpet branded Kenwood, was sold on Ebay in 2014. It has the valve bow and guide of the early 'no serial' Keilwerth trumpets and valves numbered 13,14 and 15 which makes me believe it's one of the oldest Keilwerth stencils. ,

Kenwood valves numbered 13,14,15 source Ebay.com 2014
Van Hall
A few 'Made by Keilwerth Germany' trumpets (serial numbers 2058, 2117) are marked Van Hall. It's identical to the Keilwerth Toneking. The serials would date it in the late fifties. They are both in Canada, which suggests that Van Hall was a brand from a Canadian seller....


Van Hall trumpet 'Made by Keilwerth Germany', serial nr, 2058, coll. Kaleb Hagel, Canada
It's not clear from where the trademark 'Van Hall' comes. There is a Kurath (Pre Willson) Silver 3v BBb tuba stencilled as a Van Hall. Kurath started in 1950, and Van Hall 'made a load of bad instruments in Holland' according to a source. There are several Van Hall (alto and tenor) saxophones, made by Keilwerth with serial numbers dating them to 1968 - 1976. They often are named 'Van Hall Luxor'. Luxor was in the mid seventies/early eighties a German label for instruments sourced from various makers and countries. Keilwerth made saxophones for Luxor, according to Keilwerth (Gabi Kermann). The above non-Luxor Van Hall would be from an earlier date.
Another 'Made by Keilwerth Germany'trumpet, serial number 5345, bears the model name Kembro. It's identical to a Toneking.


Kembro trumpet Made by Keilwerth Germany, source Ebay 2017
Hamilton
Some instruments 'Made by Keilwerth' are marked 'Hamilton'. The one with serial number 22318 was purchased from Grossman Music Corporation in the early 1960s, according to Horn-u-Copia. Hamilton was a trade name of Grossman Music Co., a musical instrument distributor based in Cleveland Ohio. It was founded by the brothers Henry and Julius as Grossman Brothers in 1922 to distribute 'only Stringed and Band Instruments'. The serials of these Keilwerth Hamiltons, betweeen 18.3xx and 22.3xx nicely fit into the Keilwerth range, albeit that they would have been made around 1970 and not in the early 60's. There are other Hamilton trumpets mentioned on Horn-u-Copia and Trumpetherald.com with serial numbers in the 55.000-60.000 range, a HUC Hamilton with serial 142.755 and one on Ebay with serial 717.533, obviously from other suppliers. The Hamilton Supreme is stated to be similar to the Blessing Standard. Some known serial numbers of cornets and trumpets in the 59xxx range and dating of these to the early fifties is consistent with the Blessing serial numbers, but another Hamilton Supreme with serial nr 16448 is not.

Hamilton Supreme trumpet and cornet from 1953 Grossman catalog
La Sete
And there are 'La Sete' trumpets 'Made by Keilwerth Germany'. Those also appear to be stencils for the US market, a practice well known from the Keilwerth saxophones. La Sete is believed to have been the house brand of the Barthold brothers music store chain in Southern California, it was also used by Splevins Music Center, 8834 W. Pico Boulevard of Los Angeles, selling band instruments and dissolved in 1967. (The LA in La Sete could thus refer to Los Angeles. 'Sete' is also found as Séte and Seté). The La Sete trumpets in the 18.000 - 22.000 range definitely are Keilwerth instruments, as they are marked 'Made by Keilwerth Germany'. In the lower serial numbers (500-1800) there are instruments 'Made by Keilwerth' but also instruments 'Made in Germany' that are identical to the Wohlrab 8N and 15N model. Splevins also sold a La Sete engraved trumpet 'Made by Wohlrab Germany'. Wohlrab is believed to be a trademark from another Nauheim company, Bauerfeind. (Bauerfeind builds valvesets and had a mr. Wohlrab making their trumpets). There are several La Sete trumpets (in the 7000 range) marked only "Made in Germany". My guess is that they are also from Bauerfeind as they have a lot similar with other Wohlrab instruments. Then there are La Sete trumpets from 'Elkhart, Ind.", with serials in the 150.000 range. So while there were a few 'real' Keilwerth trumpets sold under the La Sete brand, like Hamilton they sourced from other makers as well.
And by the way, Elkhart, Indiana is where Blessing produced their trumpets, the company that provided Keilwerth with trumpets in the later years. The La Sete instruments from Elkhart are pretty similar to those Blessings/Keilwerths.
Keilwerth also produced/sold instruments under the Crestone brand, mainly saxophones. These seem to have been sold in the fifties in Canada, according to a thread on Trumpetmaster. There are also trumpets and cornets with the Crestone brand: a pre 1954 Crestone cornet is reported, with 'Germany' on the valves but not 'Made by Keilwerth' and a trumpet 'Made in Germany' with serial number 5611574. There also was an Eb tuba with the Crestone label sold through Canadian auction site Kijiji in 2014, reported to be 'made by Keilwerth' and 'made in the sixties'. I think these were not made by Keilwerth.

Crestone Eb tuba, Made by Keilwerth, in the sixties,

And then there's a connection to Hopf. Horn-u-Copia states that Hopf in 1948 fled the Graslitz region and relocated in Taunusstein-Wehen under the name Willy Hopf & Co. They started making woodwinds after the relocation. For brass instruments, they stencilled the products from their peers from the former home country. "The top line came from Keilwerth", according to Horn-u-copia. That's confirmed by a statement of Gerhard Julius Keilwerth, who is quoted on the Markneukirchner Museum forum saying that a Hopf New Sound trumpet was built by Julius Keilwerth somewhere between 1965 und 1973.

But as the Hopf New Sound may look quite a lot like the Keilwerth Super de Luxe with it's brass bows, there are a lot of differences; the Hopf has a hexagonal moutpipe reciever and water key, a different 3rd slide ring, the Keilwerth Super de Luxe has a micro tuner, a bell ring and two brackets in the tuning slide. And the Hopf New Sound instruments don't have a serial number as far as I know. One of them has valves numbered 169,170,171 which doesn't point in the Keilwerth direction either. Norbert Böpple (www.jbs-brass.de) told forum member Rainer H. that the Hopf was completely built bij Bauerfeind for Keilwerth and then traded to Hopf. That seems to be more accurate: traded by Keilwerth but not built by Keilwerth. The Hopf New Sound turns out to be identical to certain Wohlrab instruments (Symphonic S), Wohlrab being a Bauerfeind trademark.

Hopf & Keilwerth: different:

Hopf New Sound

Keilwerth 11547 Super de Luxe
Wohlrab & Hopf: identical:

Wohlrab 8N serial 19xx

Hopf New Sound 2002 de Luxe

(Curt Wohlrab jun. managed a music shop, Musik Haus Wohlrab GmbH, after WWII. It was located at the address Hauptstrasse 182 in Heidelberg, before the war the address of a jewish owned umbrella shop Frank und Cie. Curt Wohlrab acquired patents for his valveless trumpets in Germany and the USA. Bauerfeind had a man named Wohlrab building their trumpets. I guess Curt Wohlrab later on worked for Bauerfeind or cooperated with them and gave his name to the Wohlrab instruments.)

A trumpet marked Keytone Rexton is, according to the Ebay seller, also a Wohlrab and identical to the Hopf New Sound.
Keytone Rexton (source Ebay2015)

There are also 'Keytone Solist the Luxe' and 'Keytone Gold Star' trumpets that are identical to Wohlrab/Bauerfeind instruments.

An interesting Keytone with the engraving '10 april 1958 PO USA - 3298 Special Services Property' added has similarities with some early Keilwerth trumpets but also differences. It has no serial number and valve numbers 79, 80, 81 indicating a Graslitz provenance. (Special Services were the entertainment branch of the US Army)..

Both Bauerfeind and Keilwerth were located in Nauheim, I can't rule it out but for now I don't assume a direct relation between Keytone and Keilwerth.

There's a Toneking from Musik Barth in Stuttgart with the JK logo, bought new in 1958, with totally different details.

And there's a Toneking (sr.nr. 1690) with an A and H added to the logo on the bell. That makes it read like AKH, suggesting A.K. Hüttl, another Czech/German instrumentmaker. This instrument was sold on Ebay in 2014 by a Detroit saxophone shop. The seller added that "Rumor has it that this horn was sent back from Germany with Detroit clarinetist and Herb Couf, who eventually stenciled Keilwerth saxophones. We can neither confirm or deny the story". .....

Superba 1 and Superba 2

In an auction from 2012 a Keilwerth Superba 1 is offered. This trumpet has a pinky hook that looks familiar from older Keilwerths and looks like a Toneking. Another Keilwerth Superba 1 was bought second hand in 1978, serial number 25868 and has the same pinky hook and valve caps but braces in the main tuning slide and a second valve adjustment handle. It states 'Made exclusively for H.Couf by Julius Keilwerth West Germany'. It looks a lot like the Keilwerth Super de Luxe model, but with Blessing like valve caps. In 2018 a Superba 2 made by Keilwerth for H.Couf was offered on Ebay, serial nr. 18254, it looks similar to the afirst mentioned Superba 1 and thus to the Toneking Model. An H Couf Superba 1 flugel that's mentioned on Trumpetmaster with serial number 265647 might be from a different maker ('Conndirectorfan' lists it as a Blessing).

Herbert "Herb" Couf (February 15, 1920 – July 8, 2011 in Michigan) was an American clarinetist, saxophonist, composer, music store owner, music instrument manufacturer executive, and an importer of music instruments. He was based in Michigan and that's were all (or most) of the brass Superba's are found. The Superba model name is also used for saxophones that were made by Keilwerth for Couf. From 1965 to 1986, Herbert Couf, then president of the WT Armstrong company, had three Keilwerth models stencilled for him under the model name "H-Couf": the "Superba I", "Superba II" and "Royalist". These instruments were built in Germany and mainly corresponded to the Toneking Special (Superba I), Toneking (Superba II) and New King (Royalist).


Keilwerth Superba 1, source Heritage Auctions 2012

Keilwerth Superba 1, Made exclusively for H.Couf by Julius Keilwerth West Germany, serial nr 25868

Keilwerth Superba 2 Made exclusively for H.Couf by Julius Keilwerth West Germany, serial number 18254 source Ebay.com 2018
Horn-u-copia mentions a Keilwerth Couf Royalist cornet. It's seems to be pretty identical to the Blessing Scholastic B121 cornet. Which brings us to the next chapter...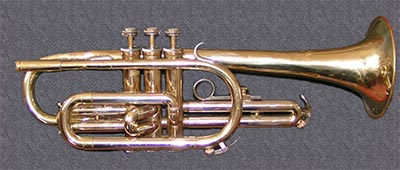 Keilwerth Couf Royalist, source HUC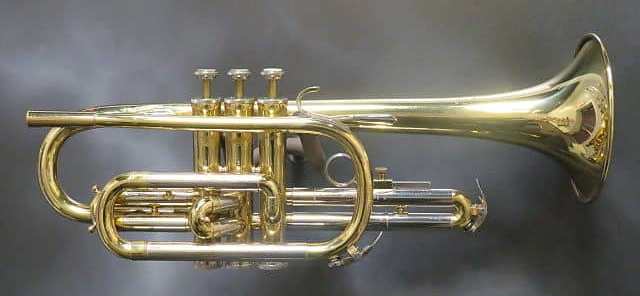 Blessing Scholastic B121 early 1980's
Christian Reisser, Ulm a.d.Donau
A trumpet marked Christian Reisser Instrumentenfabrik Ulm/Do was made by Keilwerth, thus Michael Junginger of the Reisser company. He says they were made in the 60's or 70's. It has valve numbers 40,41 42 and GERMANY on the valves and the number 83. A similar Reisser trumpet has valve numbers 20,21,22.

Reisser Ulm, nr. 83 valve numbers 40,41 42, GERMANY, source: Friedbert Winkelmann
Stencils marked Keilwerth: Blessing
It seems that in later years Keilwerth procured instruments from Blessing, Elkhart USA (said Helen Kahlke). Evidence is of course the similarity between Keilwerth and Blessing marked instruments.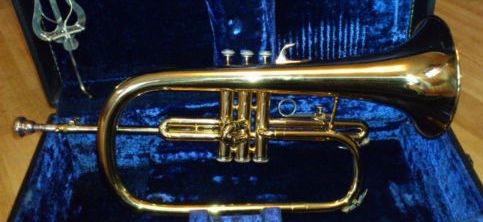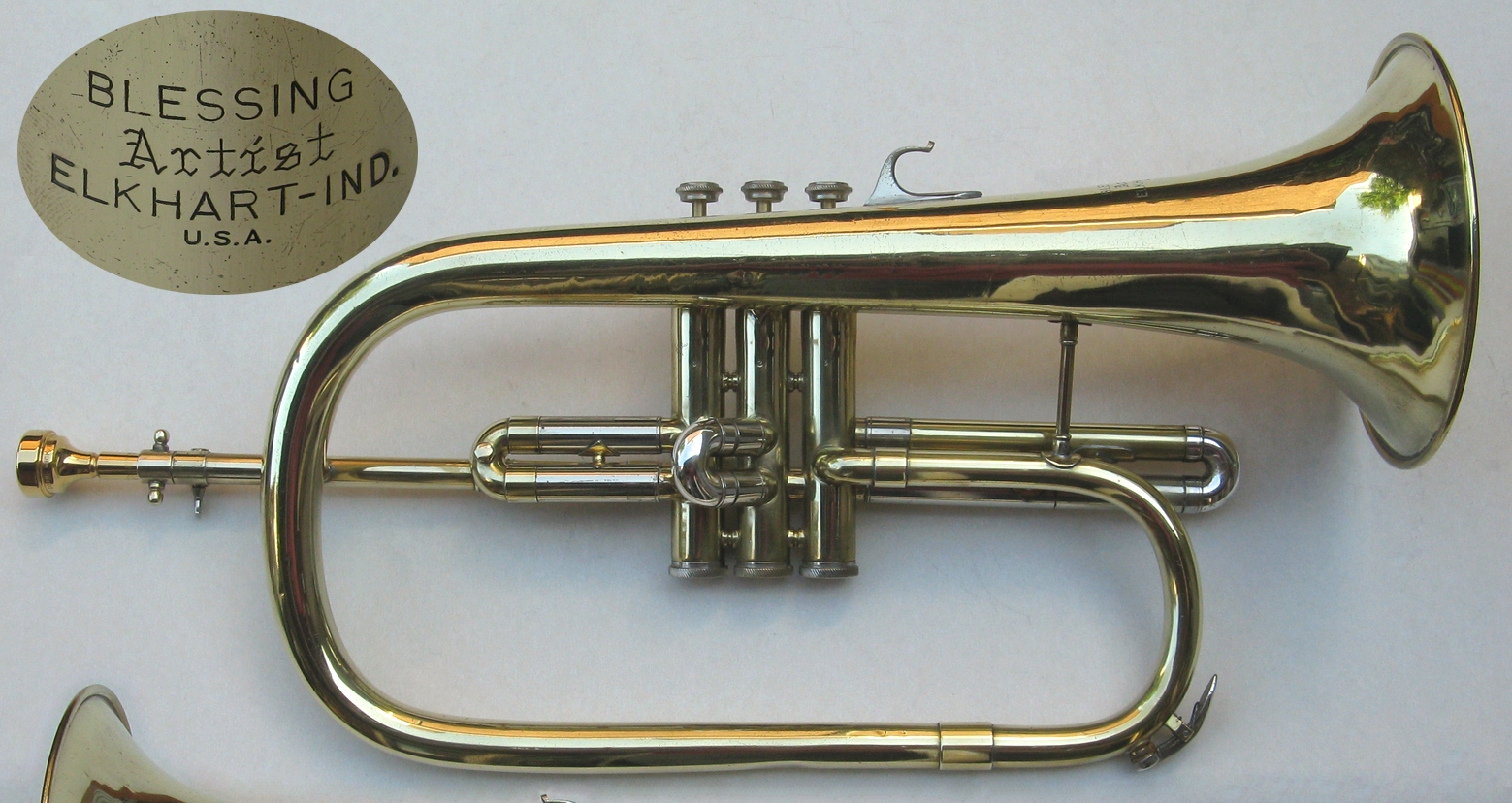 Keilwerth Super de Luxe 2000 flugel serial nr. 240409 (source: Ebay) Blessing Artist flugel serial nr. 251636 coll. Peter Willemsen, Nld.


Blessing Scholastic serial nr. 248466 Keilwerth De Luxe 2000 serial nr. 241655


Blessing Scholastic serial nr. 244980 Keilwerth Toneking de Luxe serial nr. 240976


Blessing Scholastic serial nr. 376xxx Keilwerth Toneking Super de Luxe 2000 serial nr. 227291

Other evidence can be found in the serial numbers (see serial number pages). Keilwerth brass instrument numbers make a sudden jump, first to the 100.000 range, with mostly 'Student' instruments and then to the 200.000 range with the 'De Luxe 2000' and 'Super de Luxe 2000' models like the above flugelhorn. The 6-digit serial numbers in the 200.000 range fit very well in the Blessing serial number list; Blessing reached those in the seventies. The 220.xxx to 330.xxx numbers would then place production of these Keilwerth instruments (most of the Jazzophons included) in the 1975-1983 range (from 1983 Blessing is said to have used a prefix to their numbers). The Keilwerth Toneking De Luxe 2000 would thus be a Blessing Scholastic, with identical design, valve block,valve caps ..... Blessing is said to have produced also for other German sellers in the 70's and 80's. So based on the serial numbers one could assume that Keilwerth bought their brass in Elkhart from 1975 till 1980. A little more research is needed to get the models sorted out.....

Stencils marked Keilwerth: the 100.000 range

I'm less certain about the 100.000 range. So far I discovered instruments with 6 digit numbers between 108.000 and 125.000 (and one with a 99.000 number). Like the 200.000 upwards instruments, they don't have the hexagonal valve caps and bottoms (the latest are to been seen on trumpets with a 46.xxx number). If these were Blessings they would have been produced between 1962 and 1964. That's not plausible, Keilwerth were making their 5 digit instruments untill at least 1970, according to the sparse available data. All of the "Student' branded instruments with a serial fall in this 100.000 range. Some of the Student instruments have a three or four digit number, occasionnaly with a letter added. That's a way valve blocks were marked in the Markneukirchen area, which would suggest these instruments were made in Germany. For now my hypothesis is that these instruments (at least part of them) were provided bij VEB B&S in Markneukirchen/Klingenthal. They made amongst others the Weltklang and Bandmaster instruments, on these instruments similar three or four digit numbers with a letter are found, indicating the maker of the valve block. The (sparse) serial numbers on the Student instruments then would come from that East German company. Based on the catalogs above my other hypothesis is that they date from the (early) 80's. According to Uwe Ladwig,

the Keilwerth saxophone Student models were built in the 70's and 80's, first by Amati, then by B&S, then by Amati again and finally by Jupiter. Serials numbers known here are 05441, 05535



valveblocks Bandmaster D1657, Keilwerth Toneking D2899, Weltklang U672
York
In 2001 Schreiber-Keilwerth built a new factory in Markneukirchen for the production of wind instruments and brass instrument parts.

They made parts for the British Besson instruments and Boosey and Hawkes Sovereign cornets (amongst others?). As of 2006 Schreiber-Keilwerth entered the brass marked again with a line of instruments under the York brand, completely manufactued in Markneukirchen. The line up consisted of 24 instruments, based on two formats, the 'Preference' and the 'Eminence'. Here's a

York catalog of those days. They were descendants of the former Besson ranges (Schreiber already had all the requisite tooling etc because of the break up of Besson), but the company claimed there had been major improvements, refinements and enhancements, as well as cosmetic changes to the all new range. They started producing a 'Preference' and 'Eminence' model cornet and euphonium as well as 'Preference' flugelhorn, tenor horn, baritone, EEb tuba and BBb tuba, with the possibility of additions to follow. No trumpets or trombones, as far as I'm aware of. The York line failed to find their place in the brass band world and was discontinued when Buffet-Crampon acquired Schreiber-Keilwerth in 2010.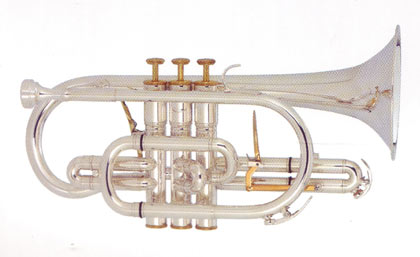 York cornet by Schreiber-Keilwerth, 2006
Not Keilwerth: Toneking by Amati/Ligna
There are some Toneking trumpets without the Keilwerth logo, saying 'Made in Czechoslovakia' on the leadpipe. Sellers state that these are Amati trumpets, which I think is true. Amati used the name Toneking, until the legal battle with Keilwerth ended in 1955 with Julius Keilwerth as winner.
Amati Toneking trumpet, 'Made in Czechoslovakia' in 2014 offered on the Mexican auction site Mercado libre





Another Toneking, valves numbered 52,53,54, 'Made in Czechoslovakia' source Ebay.com 2018
Here's another Toneking with the same engraving on the bell, for sale in 2019 on a Czech auction site. It has serial number 2036. And it's identical to the Amati Consul,


Toneking sr.nr. 2036, source Aukro.cz 2019


Consul Amati-Kraslice Made in Czechoslovakia sr.nr. 2150 source Ebay.at 2015
One other rare bird is this sousaphone marked Toneking. It has a number 38 K on the middle valve and 2 25 on the bell tenon. And a strange wrap that I haven't seen elsewhere. This Toneking sousaphone popped up in Mexico. The logo is very similar to the above 'Amati' Toneking logo. My hypothesis is that this sousa also comes from Czech export shortly after the war/before 1955. The czech instrumentmakers then were put together in the Amati collective, where im- and export was done through Ligna a.s. in Prague. Keilwerth was one of the companies that were included in Amati, the Toneking brand (originally from Keilwerth) still was used by Amati until after a legal battle Julius Keilwerth claimed it back in 1955.
Other evidence for the Amati/Ligna provenance lies in the wrap of this Lignatone Eb sousaphon (that is: the part upside from the valves). It's found in a Ligna catalog shortly after WWII. Whereas the Ligna logo seems to be the inspiration for the Toneking logo on the above sous. Ligna (latin for wood) was a trade company for (mainly) the export and import of wood and wooden products, founded in 1949. As the catalog shows, it had a department for musical instruments, the catalog showing mainly brass instruments (but also clarinets, bassoons and oboes). On the backside of the cover the brands Cremona (for guitars), Amati (for brass) and Melodia (for accordeons) are mentioned. The saxofones are branded Toneking, which implies that the catalog dates before 1955.



Lignatone Eb sousaphone, Ligna catalog Eb and Bb, logo in the same catalog
Not Keilwerth: Toneking by New York Band Instrument Co.
The name Toneking is used by other makers as well, having no known relation with Keilwerth. It was for example the house brand of the New York Band Instrument Company from East 14th Street, New York.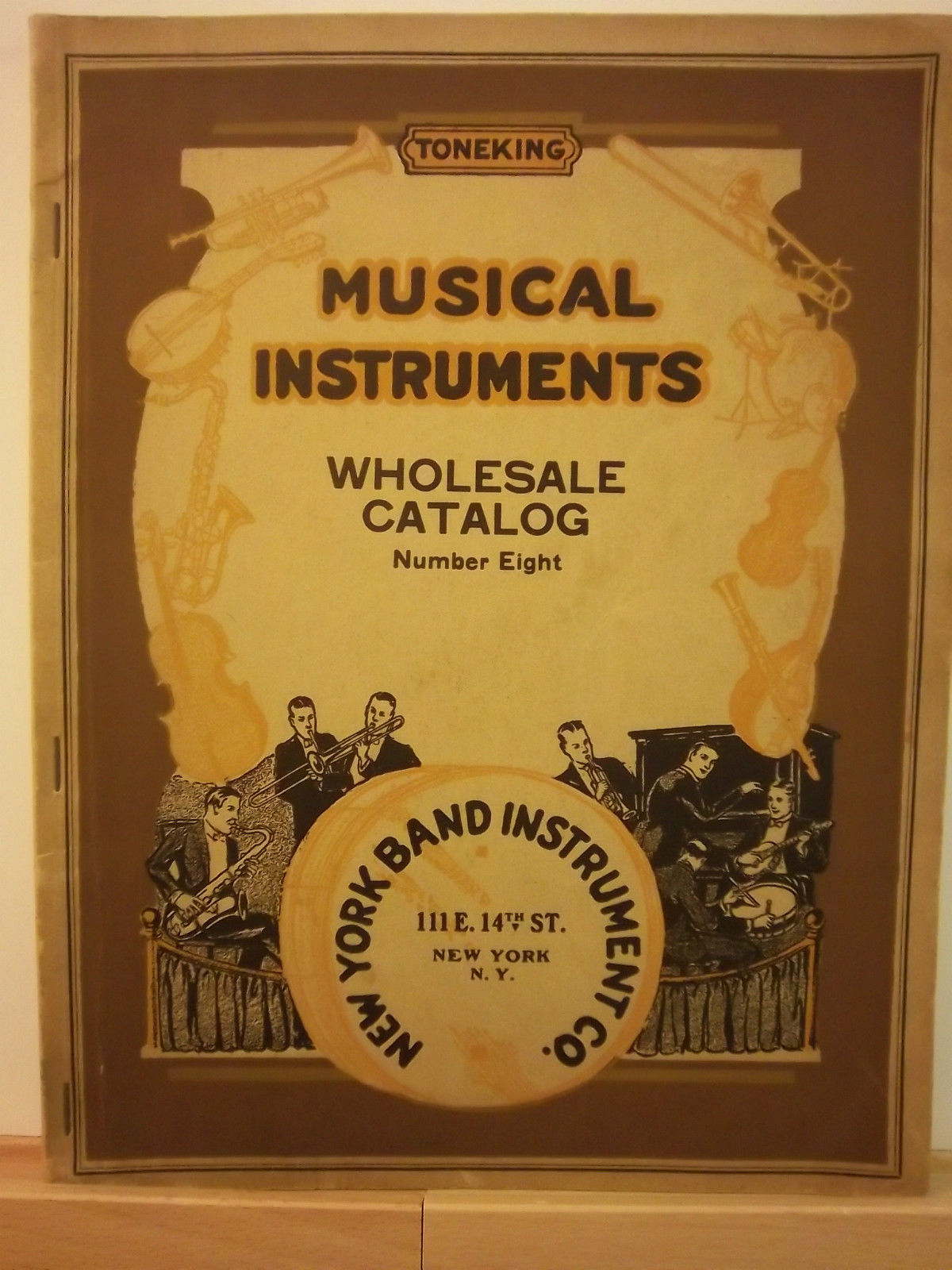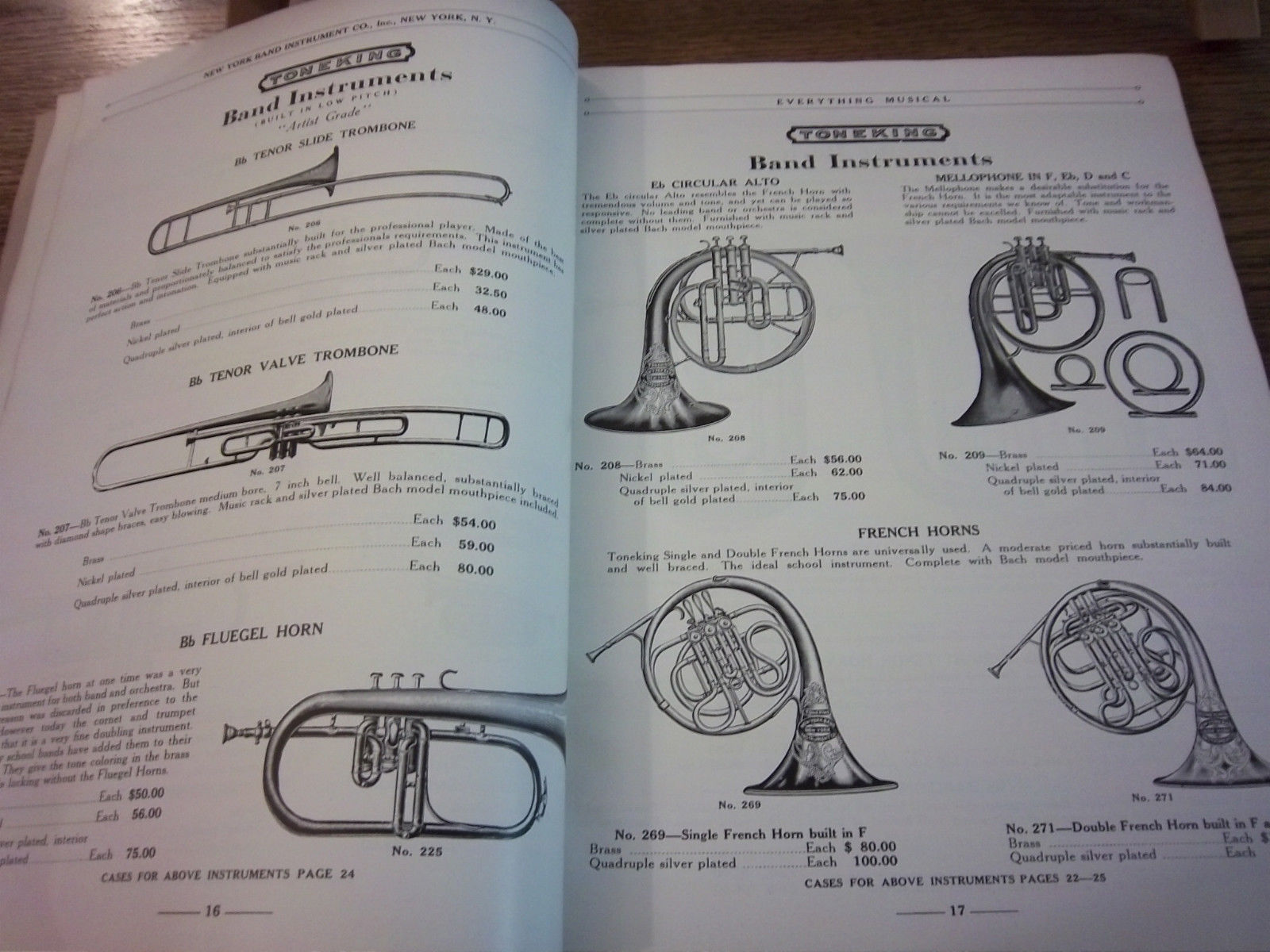 Catalog Nr. 8 New York Band Instrument Co. ca 1920's

They used it for different instruments, like cornets, trumpets, french horns, (valve) trombones, mellophones but also ukeleles and banjos. New York Musical Instrument Co started as dealers and importers in 1915, later changed their name to New York Band Instrument Co and reportedly went out of business in 1950. Horn-u-copia.net lists several NY Band Company instruments.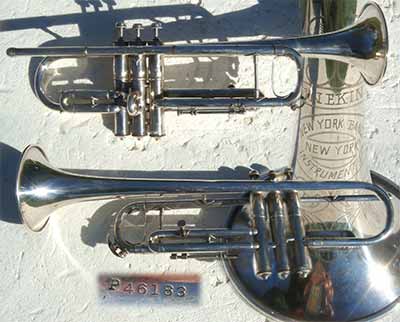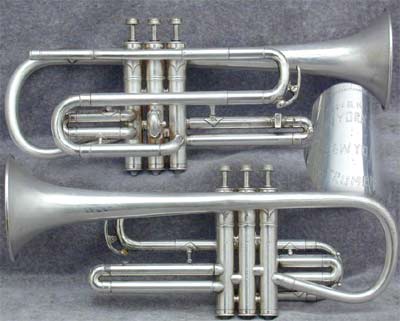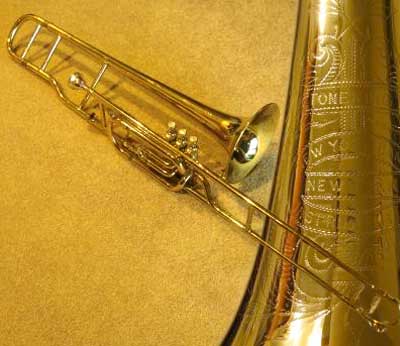 New York Band Instrument Co. brass instruments source: Horn-u-Copia.net
A New York Band Instrument Co. Toneking in Bb/A has written Czechoslovakia on the mouthpiece reciever. It also has a small circle with extensions on the middle valve.
New York Band Instrument Co. Toneking in Bb/A, valve numbers 94,95,96, source Ebay.com 2015
Interesting is that on the justanswer site someone mentions a Toneking trumpet that has the word Bohemia on it. That would date it even before 1918, when Bohemia became part of the new post WWI state of Czecho slovakia. The expert on the site answers that the piece is circa 1890-1915 and that the brand was only around for about 6 years.
The Toneking instruments (and Harmony, another brand they used) were obviously (partially) sourced from Czechoslovakia. But before WWII Keilwerth didn't make any brass instruments, so there's no reason to suppose a relation.
Not Julius Keilwerth: Josef Keilwerth
T
here are some trumpets around marked Josef Keilwerth.
Josef Keilwerth was an instrumentmaker in Graslitz. He was born in 1887, a few years after Johann Baptist, the father of Julius. Josef Keilwerth lived and worked at the Berggasse 736 (now Na Kopečku 736, Kraslice). In August 1946 he was expelled like most of the German population in the former Sudetenland after WWII. He was listed to leave by train to Bavaria, together with his wife Anna and daughters Margaretha and Gertrud. These instruments are to be dated before WWII because they have the German name for Kraslice. 736 is the house number.
Josef Keilwerth trumpets

engraving

year (as stated by owner or seller)

remarks

thumbnail picture

source

Jos. Keilwerth 736 Graslitz C.S.R

1918-1938

piston trumpet

Horn-u-copia

Josef Keilwerth 736 Graslitz
before WWII
rotary valve trumpet
Answers.com
Josef Keilwerth Graslitz 736
pre WWII
top action rotary valve trumpet, gold washed 4-3/8" bell
Ebay.com sept 2014
Keilwerth brass mouthpieces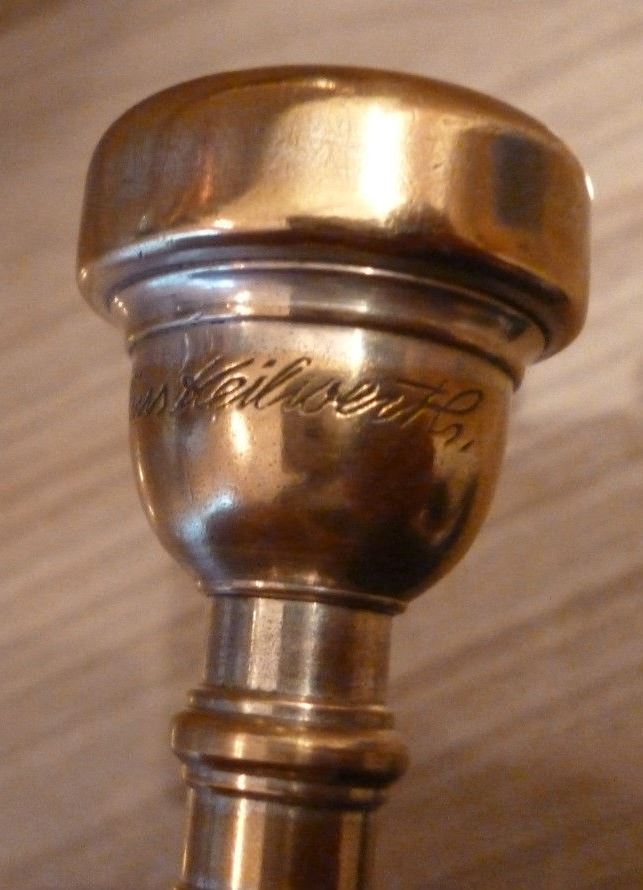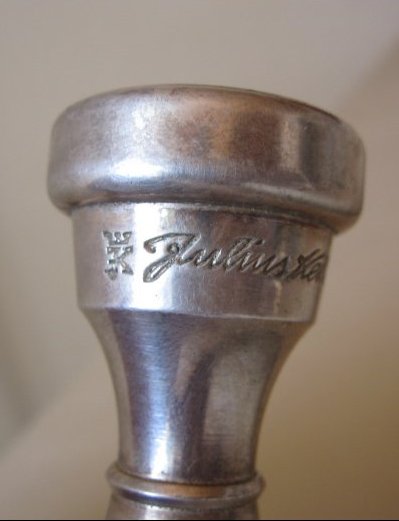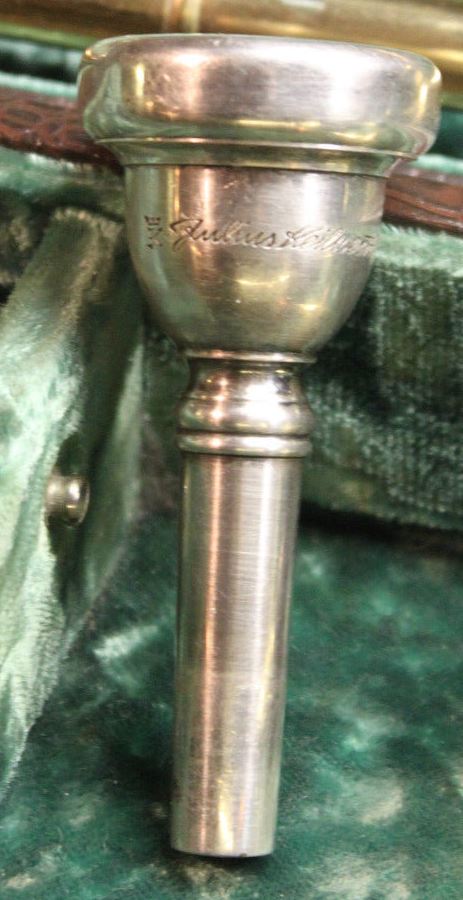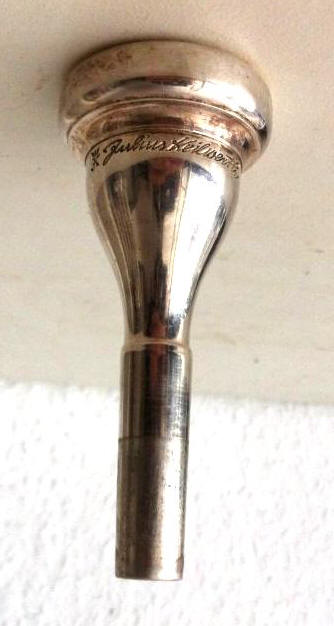 Left a 1958 traditional trumpet mouthpiece, middle the characteristic shape of the later Julius Keilwerth trumpet mouthpieces; to the right a ca. 1958 trombone mouthpiece and a newer one..
Keilwerth brass serial numbers
Keilwerth brass serial numbers are on four separate pages: serial numbers 0 - 4.999 : 5000 - 9.999 : 10.000 - 14.999 : 15.000 - 335308,
There are serial number lists of Keilwerth saxophones around but there was no such thing for their brass instruments. On these pages you'll find a list of instruments and numbers that were traded through Ebay, Quoka and such, information provided by owners of Keilwerth brass instruments, with information added from sites like Trompetenforum.de (where Brigantiumjazz triggered me to make this list), Trumpetherald.com, Trumpetmaster.com, Horn-u-copia and the Yorkmaster public pictures at Yahoo. There seems to be no relation whatsoever between the serial numbers of Keilwerth saxophones and their brass instrument serial numbers.
The serial number list of brass instruments has almost 700 entries, that's maybe 1 percent of Keilwerth brass production. It shows a fairly continuous serie up to number 30658, with dozens per thousands in the first 10.000, and a little less per thousand in the next range. Then, after a few incidental Tonekings, new models show up, like the 2000 and 3000 series and the Student. The jump, first to the 100.xxx range, with mostly 'Student' instruments and then to the 200.xxx range with the 'De Luxe 2000' and 'Super de Luxe 2000' models must originate in other makers providing the instruments. Here the gaps between the numbers are much larger. That's probably because they are part of a serial number list that includes the makers 'own' instruments (and maybe other stencils by the same maker). And maybe also because these are newer and more of them are still with their original owners, so they down't show up on Ebay and other sites?
There also are quite a few Keilwerth trumpets and trombones listed without a serial number. They stand for a few thousand Keilwerth instrument of what I think is their earliest production.
For some instrument there is a more or less reliable date of purchase know. Based on these dates the graph below is made. Note that an instrument bought at a certain time may have waited in the shop for a considerable amount of time, sometimes several years. So drawing a line between the lower dots gives an approximation of the timeline of the production of Keilwerth brass, that is the first 30.000 Keilwerth instruments, which I believe is their own production.
year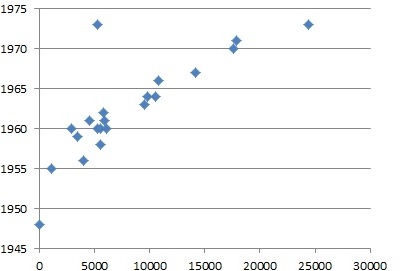 serial number

Go to Keilwerth brass serial number page:

serial numbers: 0 - 4.999 : 5000 - 9.999 : 10.000 - 14.999 : 15.000 - 335308,

If you note any discrepancies, or have additional information concerning the Keilwerth history and Keilwerth brass instruments, please contact me.

Additionally, I would be grateful to anyone who owns a Keilwerth brass instrument not listed to contact me with the name, type and serial number (etc.). It would be nice to build the list also using other horns than those that are being sold.

If you feel any content is in violation of copyright, or for information regarding this site's content, please contact me

Sources

bassic-sax.info/version5/vintage-saxes/european-made-saxes/julius-keilwerth/jk-nauheim

saxwelt.de/index.php/geschichte/keilwerth

www.ebay.de www.ebay.com etc.

Blessing

Links

www.saxpics.com/Keilwerth/index.htm

bassic-sax.info/version5/vintage-saxes/european-made-saxes/julius-keilwerth/jk-nauheim

Arigra, Exakta and other octagonal trumpets

Top action rotary valve trumpets