The Jazzophone
the Normaphone
and other sax shaped or double-belled trumpets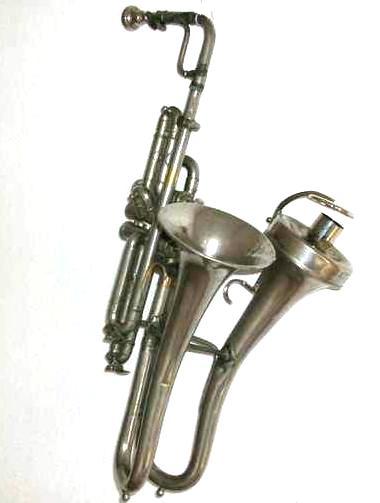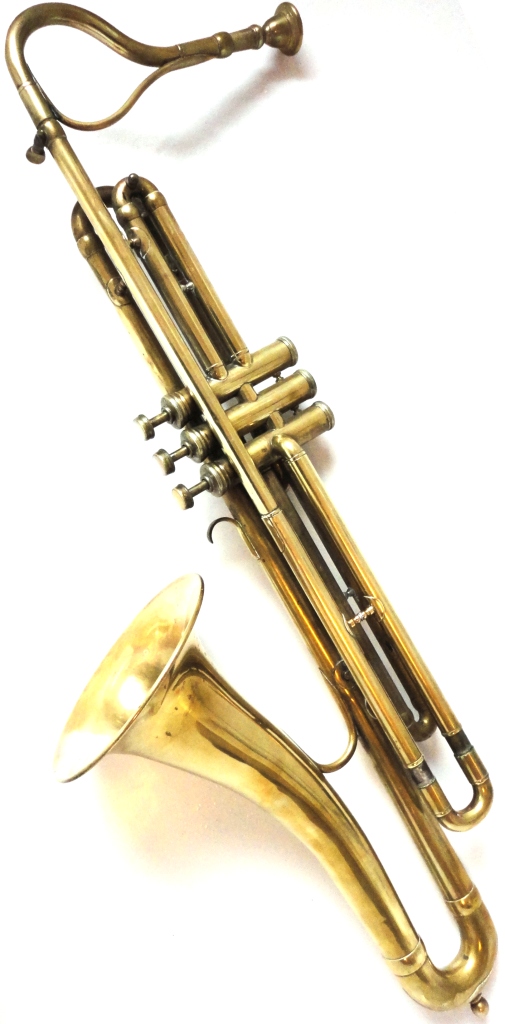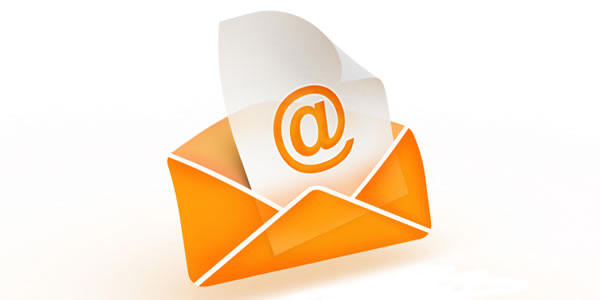 The Jazzophon is an almost forgotten instrument, a trumpet in the shape of a saxophone with two bells. One bell sounds like a normal trumpet, the other like a muted trumpet. In a July 3rd, 2011 recording Scott Robinson shows the possibilities of the instrument. The Jazzophon was invented in the nineteen twenties as a cheap alternative to the then very popular saxophone. The Jazzophon is played with a trumpet-mouthpiece and has the three regular trumpet valves plus one valve upside down. When pushed down that extra valve switches between the two bells, one of which has a built-in wah-wah mute. The Jazzophon was not a success, like many other newly invented saxophone-like instruments from that period. Did it disappear because Hitler's Germany wasn't very fond of jazz or because the crisis hit? Or was it a lack of suitable music or was it too difficult to play? It is not clear.
I stumbled across the Jazzophon in early 2010, when Gertjan Hos from Assendelft offered one for sale. Shortly after the war it was taken home to Holland by an uncle of a friend who had worked in the German Arbeitseinsatz. There was another one, he knew, in America. That tickled my curiosity. A few weeks of googling and some emails delivered more information. Here you'll find everything you always wanted to know about the Jazzophon, and much more.
Marked Jazzophon D.G.R.M. 995.305 on the mute and C.A. Wunderlich Siebenbrunn Vogtl. on the open bell. Stem and trigger replaced in 2002 by Helmuth Voigt in Markneukirchen. Coll. Gerard Westerhof
The Musikwinkel in Vogtland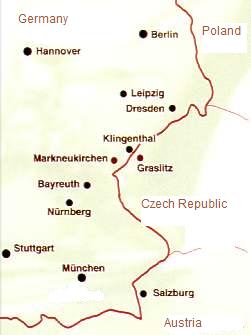 The roots of the Jazzophon lie in the area of Graslitz and Markneukirchen

in the Saxonian Vogtland

, an area that acted for years as the world's musicstore. This region was called the Musikwinkel. Refugees from the nearby Graslitz-region started producing musical instruments in the 17th century after they were forced to leave the recatholicising Bohemia. They started with violins, then gitars and cithers, woodwinds, harmonicas until almost every orchestral instrument was made in this region. At the start of the 20th century the instruments from the Musikwinkel-region had a 80 percent share of the worldwide market. From 1893 untill 1916 there even was a U.S. Consulate General in Markneukirchen. At that time Markneukirchen was about the wealthiest city of Germany, the wholesalers being the millionaires rather than the instrument makers.

The saxophone was invented by Adolphe Sax in 1841. He wanted to create an instrument that would both be the loudest of the woodwinds and the most versatile of the brass, and would fill the then vacant middle ground between the two sections. In the Roaring Twenties the saxophone became extremely popular as being the ultimate jazz-instrument. By the mid-twenties there was undoubtedly a saxophone boom, fuelled by a post-war demand for novelty. Production of saxophones in America reached a peak in 1924, when 100,000 instruments were produced. Five hundred thousand saxophones were sold in seven years, until the Wall Street crash signalled an end to this boost to the saxophone's popularity.

In the 1920s, jazz in Germany was a fad. Eager to look ahead after the crushing defeat of World War I, the part of Weimar Germany that embraced the modernism that swept through Europe was crazy about jazz. The "Salonorchester" turned to the new style, because dancers wanted it so. Radio also played a role in the popularization of jazz. In 1926, it began to regularly play jazz music, and by 1930 artists such as Louis Armstrong, Duke Ellington and others became popular to German audiences. People saw jazz as the "essence of the era's modernism," a strong surge toward greater equality and emancipation, posing as a perfect advocate for a democracy in Germany.

A shortage of cheap saxophones and good saxophone players triggered the design of the Jazzophon and the also sax-shaped Normaphon, invented by Richard Oskar Heber. Many non-standard instruments were introduced during this period. These included the Slide Saxophone, the Swanee-sax of 1922, the keyless Saxie of 1924, the Saxello of 1925 and the Conn-o-sax of 1928.

<![if !vml]>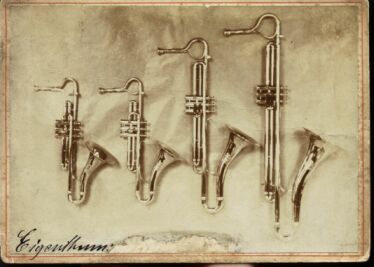 <![endif]>

Normaphons, photo copyright by Ines Ann Heber

In an instrumentcatalog from around 1927, C.A. Wunderlich states:

"The high prices of saxophones are withdrawing a lot of orchestras from purchasing them. The public nevertheless wants to hear saxophone music. The Normaphons are a low-cost alternative to the saxophone. Besides, every trumpeter and horn player can play them without further study because they are just like trumpets, althorns, tenorhorns, Eb or BB basses, but in a different shape. The new design gives the instruments their own, pleasant sound. Modern orchestras shouldn't hesitate to buy these instruments."

The same story applies for Jazzophons. The price of a sopran-Normaphon was 76 Reichsmark (with the U.S. dollar worth 4.2 RM), and tenor could be had for 96 RM. A Jazzophone took a 100 RM. An alto-saxophone would go for much more, 260 to 550 RM. The gross monthly wage for a worker in 1925 was

139 Reichsmark on average, rising to 186 RM in 1928 (which by then was 8 percent above the pre-war level.)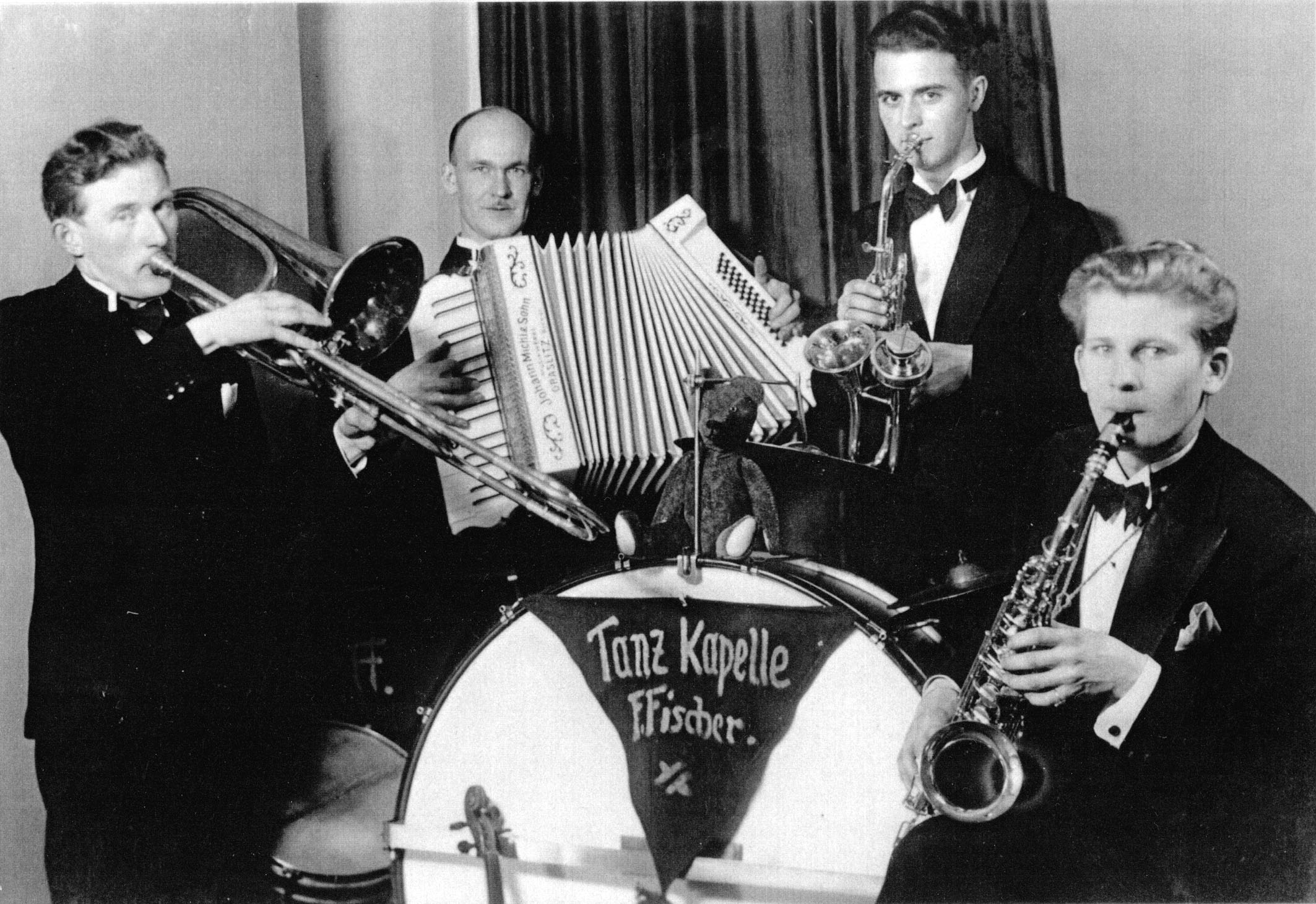 Tanzkapelle F. Fischer coll. Trompetenmuseum Bad Säckingen

The only known picture showing an orchestra with a Jazzophon is this picture in the Trompetenmuseums in Bad Säckingen, with Tanz Kapelle F. Fischer.

Hans Rölz

The first advertisement for the Jazzophon appeared on September 15th, 1926 in the 'Zeitschrift für Instrumentenbau' from Leipzig, the trade magazine for makers of and dealers in musical instruments. It was an ad from Musikwarenfabrik Hans Rölz from the Czech Graslitz (now Kraslice). Rölz showed the Jazzophon as a novelty at the Leipzig-

autumn fair. The editorial columns in the Zeitschrift paid attention to the instrument. The ad shows a sax shaped Jazzophon and also one in the form of a lyre. In March 1927, just before the Leipzig spring fair, Rölz advertised again, the lyre shaped Jazzophon had by then disappeared form the ad. The magazine had an extra jazz catalog from Rölz attached. In April 1927 he advertised once again, this time with a trumpet-shaped Jazzophon and that was it.

Rölz started in 1874 as as a manufacturer of music toys, trading all kinds of instruments, buying products from smaller companies and selling them worldwide. He currently had a branch in the Czech Graslitz and in the nearby German Klingenthal and shops in Leipzig and Berlin, and over 200 employees.

Josef Glassl was a manufacturer who also had branches in Graslitz and Klingenthal. In his catalog, with on the cover the "Schützen-Kapelle Vohwinkel" and the year 1926, he offered an identical Jazzophon in saxophone and trumpet form, and a trombone and lyra-form as well. The sax shaped one in nickel goes for 70 RM. Herold & Co, Musik-Spezial-Firma in Klingenthal in Sachsen offers the trumpet, saxophone (81.50 RM) and trombone shaped instruments, not the lyra. The instruments are pitched in Bb but can also be made in C. Herold&Co is the first (and only) one to refer to a patent protection, speaking of "unsere neuen gesetzlich geschützten Jazzophone."

D.R.G.M.-registration

One month before the first advertisment of Rölz, on August 27th, 1926, Franz Xaver Hüller obtained a

Deutsches Reich Gebrauchs Muster (D.R.G.M

.)-registration for his Jazzophon. The D.R.G.M. was a design or use patent somewhat similar to a 'Registered' mark that provides an initial three years protection extendable with another three years to a maximum of six. The D.R.G.M. 'patents' were first issued in 1891 and were discontinued after the fall of the German Reich. Hüllers Jazzophon w

as registered with number 965.305, according to the 'Zeitschrift'. Unfortunately, the D.R.G.M.-registrations were all destroyed.

F.X. Hüller

Franz Xaver Hüller was an instrument maker, also from Graslitz in Czechoslovakia (now Kraslice, Czechia). Hüller was born on December 29th of 1856, in Pechbach, now in Czechia. He founded his factory in the nearby Graslitz in 1882. He build and traded wind instruments and stringed instruments, with branches in Markneukirchen and Klingenthal. He bought the ruïns of the 'Knappschaftsmühle' a burnt mill, and on that spot in 1898 he had a factory and a house build. The factory was known as the 'Schied-Fabrik'. By 1910 Hüller had 200-250 people at work. He build and traded wind instruments and stringed instruments, with branches in Markneukirchen and Klingenthal. From 1923 he also produced saxophones. In 1920 his daughters an his sons in law Anton Riedl and Ernst Modl became business partners and the name was changed to F.X. Hüller & Co. Hüller died in 1936, as did Riedl, Modl continued the company after WWII until his death in 1972.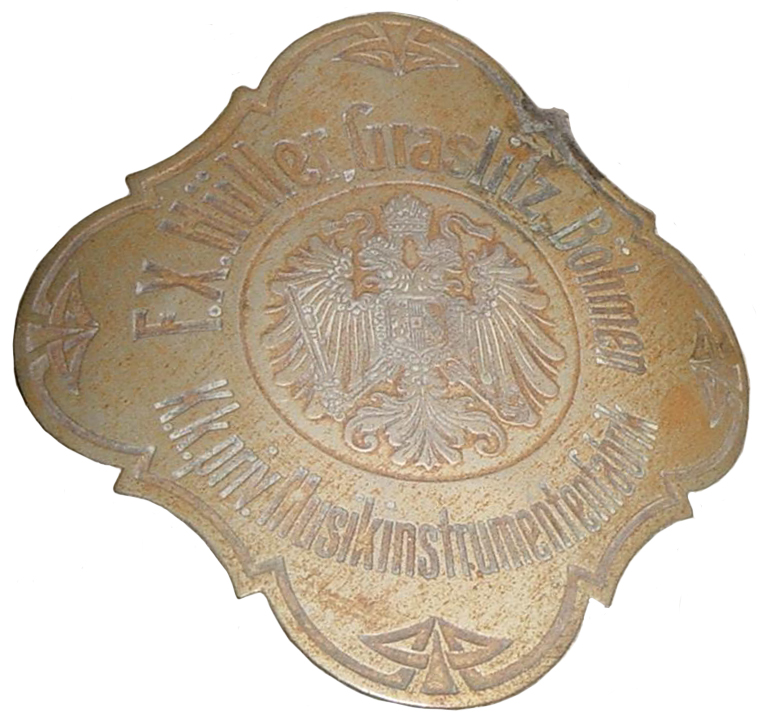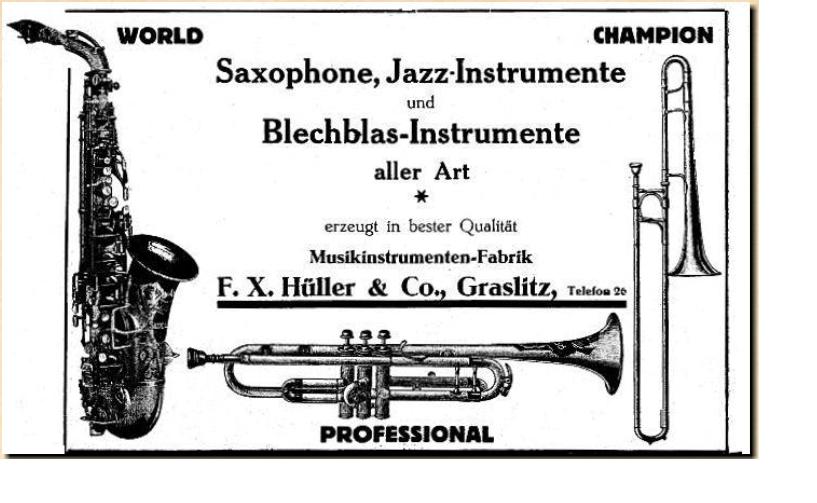 F.X.Hüller Graslitz Böhmen K.K.priv.Musikinstrumentenfabrik, before 1918 F.X.Hüller & Co ad, after 1920

C.A.Wunderlich, Siebenbrunn

With a remarkable difference (995.305) the D.R.G.M.-registration is to be found on the front side of the mute of several Jazzophons. The name Hüller is not found on any Jazzophon. At least two

Jazzophons are labelled C.A. Wunderlich, Siebenbrunn Vogtl.

In 1854, Carl August Wunderlich (1826-1911) started manufacturing windinstruments under the trade mark CEA. At the end of the 19th century the company in Siebenbrunn, next to Markneukirchen, transformed into a wholesale trader of different types of musical instruments. In the first half of the 20th century Wunderlich was seen as one of the most important wholesalers in Vogtland. The company existed until 1966.

Marked Jazzophon D.G.R.M. 995305 on the mute and C.A.Wunderlich Siebenbrunn Vogtland Germany on the open bell. Ca 1930. Coll. Scott Robinson, US

At the time,

for wholesalers such as Wunderlich, it was common practice to engrave their own name on the instruments, instead of the name of the instrument's inventor and

/

or maker. In Markneukirchen and the surrounding areas there were a few hundred instrument builders of all kind, and approximately twenty wholesalers. The wholesalers were able to dictate prices and conditions; thus, most of the instruments are not labeled by the builders but by the wholesalers.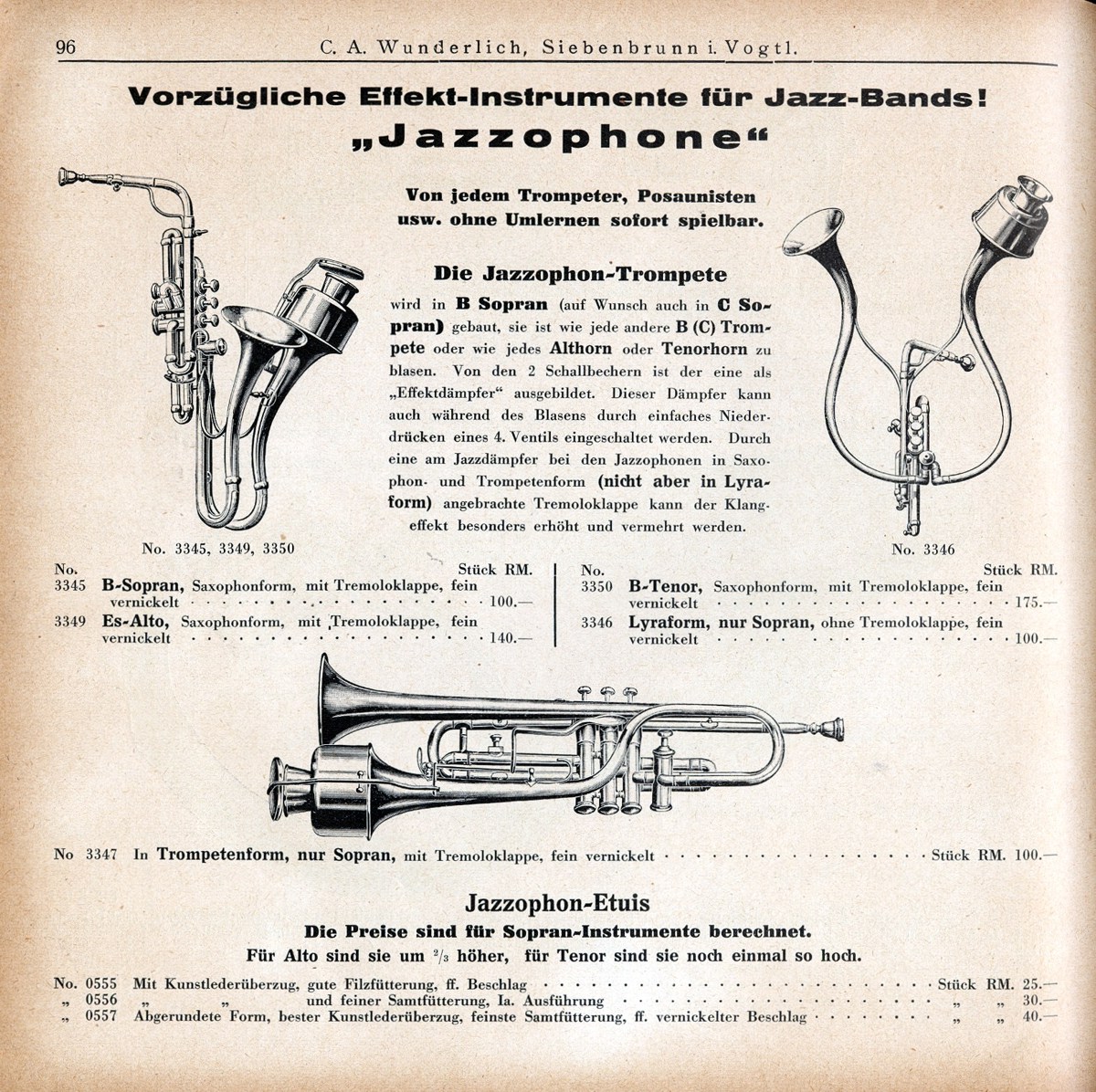 Catalog C.A. Wunderlich around 1928. Click to enlarge

In a c

atalog from around 1928 Wunderlich offers besides the soprano Jazzophon (priced at 90 Reichsmark) an alto and a tenor Jazzophon. Wunderlich also offers the Jazzophon in the form of a lyre and a trumpet shaped one.

Max Adler from Erlbach, also in Vogtland, offered the same instruments

around 1930 in his catalog number 25. The price for the soprano Jazzophon had now risen to RM 140. The alto and tenor Jazzophons had disappeared. On the other hand, he offered a Jazzophone trombone with a double cup and a switching valve. Heinrich Moritz Schuster, Markneukirchen offered the same for RM 150 in a 1930 catalog.

Most of the now known Jazzophons

are engraved with "Jazzophon / D.R.G.M. 995.305" on the mute. Remarkably, the instruments in the ads and catalogs from Rölz, Wunderlich and Adler were not. They also have a slightly different shape than the instruments with the D.R.G.M.-engraving; their mute is slightly higher and more rounded, the braces that support the bells are curved instead of straight. For the moment it's unclear what was behind this, maybe different manufacturers, maybe a struggle for the rights.

Johan Michl & Sohn, Pfretzschner &Martin

A jazzophone with engraving Johann Michl & Sohn, Graslitz, was offered in 2006 at an auction in Vichy, France. Johann Michl & Sohn was known as a stringed and woodwind maker as well as a brass instrument maker in Graslitz, Bohemia from 1870 to c.1937.

In 1995 in an display in the exhibition Musical Innovations of the Industrial Revolution in the Cutler Gallery of the National Music Museum in Vermillion, South Dakota, there was a jazzophon by Pfretzschner & Martin from Markneukirchen on view, dated ca. 1925. The Deutsche Signal-Instrumenten-Fabrik Pfretzschner & Martin became in 1926 Signalinstumenten Fabrik Max B. Martin.

Miraphone

There is one Jazzophon marked Miraphone on the mute. After World War II the region of Graslitz, also known as Sudetenland, became once again part of Czechslovakia and most of the German population in Sudetenland was expelled. Thirteen instrumentmakers from Graslitz moved to the southern part of West-Germany to Waldkraiburg and started repairing musical instruments under the name 'Produktivgenossenschaft der Graslitzer Musikinstrumentenerzeuger eGmbH'. As of 1947 they built new instruments as well, branded Miraphone. The new Miraphone-logo was used from 1948 onwards. PR-manager Kari Theinert said: "Our company has actually built a whole series of Jazzophones. Unfortunately, there is no archived documentation or old catalog material anymore. The engraving of this instrument shows that it's manufactured around the late 60s at our facility in Waldkraiburg. Most of these instruments were exported to the United States."

Jazzophone marked Miraphone, 1960's, coll. Erik Totham, California US

Other known Jazzophon's
Trumpet shaped Jazzophon, engraved Jazzophon D.G.R.M. 995.305, Trompetenmuseum Bad Säckingen
Jazzophon of the late Frank Tomes, Londen, here played in 2009 by David Staff. No maker or dealer's name, only D.R.G.M. No. 995 305. Tomes bought it from John R.T.Davies, who bought it from a music shop in Rome while on tour with the 'Temperance Seven' a British 20s style jazz/dance band.
1 - 2. Jazz-o-phone. c. 1926, brass, understood to be German. One thumb lever directs the sound through the muted bell, while the other thumb lever controls the wah-wah. Sold by Sid Glickman, New York US in 2010
3. Jazzophon D.R.G.M. 995.305. Coll. Attilio Berni, Fiumicino, Italië,
4. Professional Jazzophon D.R.G.M. 995.305 brass, auctioned at Sotheby's in 1983
5. Jazzophon D.R.G.M 995.305. Coll. Robert Ullery, Virgina, VS,
6. Jazzophon D.R.G.M 995.30 Coll. Museum Bad Säckingen, Deutschland,
7. Jazzophon, details unknown
8 - 10. Jazzophon D.R.G.M. 995.305 1920's. Hartenberger World Music Collection, Missouri, VS
11. Jazzophon Coll. NMM Vermillion, South Dakota
The Jazzophon Background of the Jazzophon Other sax shaped trumpets Other double-bell trumpets Other sax shaped instruments Sources, links and contact
Normaphon
The Normaphon was a saxophone shaped trumpet with only one bell, invented by Richard Oskar Heber (1872-1938) from Markneukirchen. Between 1900 and 1935 he produced brass instruments under the Norma-brand at the Schützenstrasse 36 in Markneukirchen.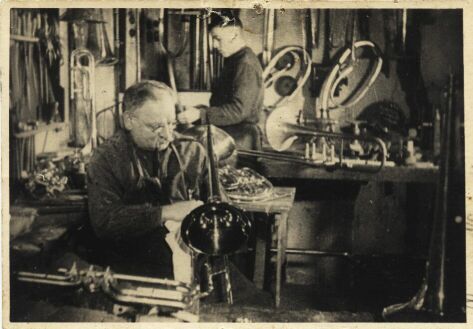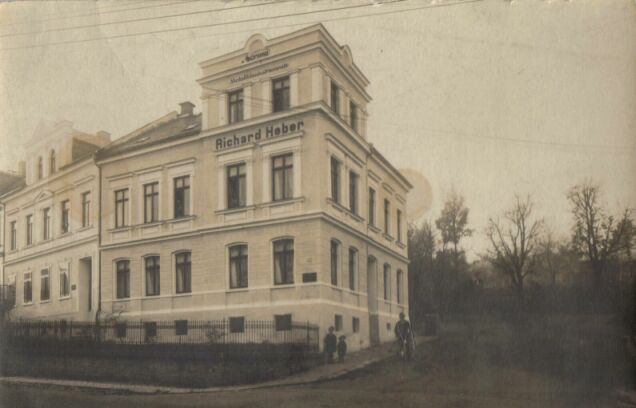 Richard Oskar Heber at work Schützenstrasse 36 Markneukirchen photo's copyright Ines Ann Heber
Heber advertised the Normaphon as very appropriate for 'Jazz-Band und sonstige Effekt-Kapellen'. Roughly 100 Normaphons were built from approximately 1924/25 until 1930, and were distributed through wholesalers such as C.A. Wunderlich in Siebenbrunn, R.O. Adler and C.G Glier in Markneukirchen, Ammon Gläser in Erlbach and M. J. Kalashen in New York. The Gebrüder Schuster in Markneukirchen, 'Fabrik und Export von Musikinstrumenten und Saiten', from 1854, had the Normaphon in their Katalog Nr. 70, (ca. 1929). Normaphons were sent out to musical directors all over the world to promote the new instrument.
The Normaphon also had a D.R.G.M-registration from 26.02.1926, number 51c. 945 751, under the name 'Metallblasinstrument'. The C.G.Glier catalog from October 1926 states that patents are claimed both at home and abroad. There were four sizes of the instrument (specials possible), but most of them were build in tenor. According to Albert Rice they were build not only with piston but also with rotary valves. The soprano also had a version with an echo effect-valve, similar to the Jazzophon. Initially, there also was a choice between high and low pitch. Max Adler from Erlbach offered in his catalogue number 25 also the English high pitch and the Normaphon in C and in F for the same price. Adler advertises the Normaphon as a solo instrument. Remarkable: C.A. Wunderlich offered around 1928 also a soprano version of the Normaphon with an echo effect valve, a kind of Jazzophon in fact. The New Langwill Index states that C.A. Wunderlich held the Normaphon patent but to me that seems to be a misinterpretation.
Pieter Aafjes, musical director of Crescendo, a concert band from Culemborg in the Netherlands, obtained an alto Normaphon from C.A. Wunderlich with serial number 0104, to give it a try. Through Riet van Dillen, the daughter of his successor Jac van Dillen, it came in my possession.
Alto Normaphon in Eb, originally nickel plated, serial number 0104. On the bell: C.A. Wunderlich Siebenbrunn Vogtl. coll. Gerard Westerhof
Normaphones can be found amongst others at the
National Music Museum
of the University of South Dakota, the
Edinburgh University Collection of Historic Musical Instruments
, the MIM in Phoenix,
the Museum of Musical Instruments of the Leipzig University,
the HJM Brass Collection in Turku, Finland and the
Trompetenmuseum
in Bad Säckingen.
In 1957 Nat King Cole performed 'Rosetta' in one of his shows together with Billy Eckstine, Eckstine playing a tenor Normaphone (from 2.12").
William 'Hicky' Kelley played a tenor Normaphone in 1959 with the Modern Jazz Disciples (track 4 onwards).
Multi instrumentalist Scott Robinson from Teaneck, New Jersey, played a tenor Normaphon on his first LP Multiple Instruments from 1984 and in later years with Hazmat Modine on their CD Bahamut.
And yet another multi instrumentalist, Eric Budd from Melbourne, Australia showing his tenor Normaphon (serial number 0164).
Tom Guralnick has a tenor Normaphon (serial number 0238) that he got from Bob Klein in New York around 2001. Bob's father played in the NY Philharmonic and taught in a community music school where he discovered it some 50 years ago when he closed down the music school, and Bob gave it to Tom some 15 years ago. Tom is the director at Outpost, Albuquerque, and occasionally shows the instrument to guest musicians. 'Rosewell Rudd dug it". Here's jazz trumpeter Bobby Bradford (1934) trying, with Tom looking.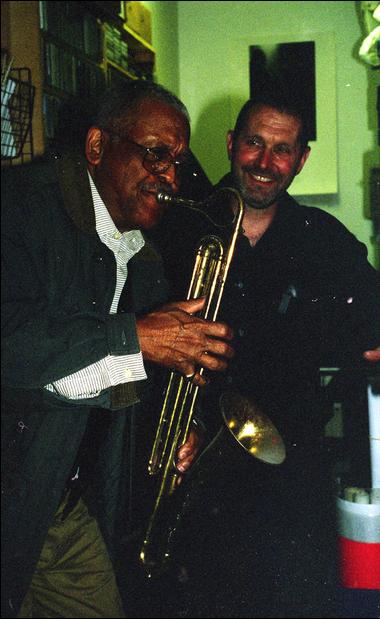 Bobby Bradford and Tom Guralnick 12 april 2004, photo Mark Weber

1
2
3
4
5
6a, 6b
7
8
9
10
1. soprano Normaphon D.R.G.M. Germany sold in 1998 through Butterfield & Butterfield
2. alto Normaphon, D.R.G.M. serial number 0344, acquired in 2010, coll. Han Savelkoel, Nederland
3. alto Normaphon serial number 0441, coll. Heikki Moisio Turku, Finland
4. tenor Normaphon coll. NMM, Vermillion South Dakota VS, acquired in 1977, on permanent display at the Meredith Willson Museum in Mason City, Iowa
5. tenor Normaphon D.R.G.M. serial number 0315 coll. Edinburgh University, UK
6a. alto Normaphon, serial number 150 coll. Scott Robinson, Teaneck New Jersey, VS
6b. tenor Normaphon, serial number 350, coll. Scott Robinson, Teaneck New Jersey, VS
7. tenor (?) Normaphon D.R.G.M. coll. MIM, Phoenix VS., until 2011 Fiske Museum, Claremont, VS (Albert Rice speaks of an alto, D.R.G.M./GERMANY"—sold by C.A. Wunderlich)
8. tenor (?) Normaphon, D.R.G.M. Germany, restauration with new mouthpipe in 2012 by Robb Stewart, coll. Rick Schwartz
9. tenor Normaphon D.R.G.M. C.A.Wunderlich Siebenbrunn Vgtl. serial number 0196 coll. Museum für Musikinstrumente der Universität Leipzig
10. tenor Normaphon serial number 0238 coll. Tom Guralnick Albuquerque VS
Leopold Renz
Normaphone in Bb, coll. Musikinstrumenten Museum Markneukirchen
Leopold Renz, Instrumentenmacher, Berlin, N58 Gaudystr.14, made this tenor instrument, with a total length of 277 cm. Günter Dullat, who used it for the cover of his book Blasinstrumente names it also a Normaphone and states that the Normaphone (this Normaphon?) in the nineteen twenties was developed by Robert Schopper (1859-1938) in Leipzig. Renz worked as an instrumentmaker from 19196 onwards, and from 1927 under his own name.
Jazzophon
Background of the Jazzophon
Other sax shaped trumpets
Other double-bell trumpets
Other sax shaped instruments
Sources, links and contact
The end of the Jazzophone
In the 1930s jazz in Germany began to see its downturn. Despite the liberal attitudes of the Weimar democracy, the public and private sentiment toward blacks, including African Americans, was an ambivalent. In 1932, all the conservative musicians and critics were denigrating jazz as a product of 'nigger' culture, which provided the government the fodder to forbid hiring of colored musicians. One critic even went so far as to call jazz a mere 'nigger noise', having only one purpose: "to introduce obscenities into society."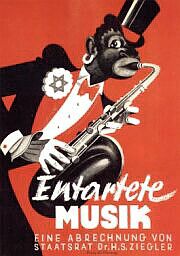 For the Nazis, jazz was a threatening form of expression and the saxophone was jazz. The Nazi regime pursued and banned the broadcasting of jazz on German radio, partly because of its African roots and because many of the active jazz musicians were of Jewish origin; and partly due to the music's certain themes of individuality and freedom. The jazz studies in Frankfurt were closed by the Nazis in 1933. Joseph Goebbels, the Reich Minister of Public Enlightenment and Propaganda, had hoped to convince and persuade the public via anti-jazz propaganda before 1935, rather than prohibit jazz. However, jazz was officially banned in 1935. In 1935, the Nazi government did not allow German musicians of Jewish origin to perform any longer. Listening to foreign stations, which regularly played jazz, was penalized from 1939 on.
Poster for an Exhibition in Dusseldorf, 1938
The saxophone - so strongly associated with jazz - was seen in Germany as the anti-German instrument, proposes Günther Dullat in his book on nearly forgotten wind instruments. That didn't mean the end of the saxophone production in Germany. In 1938/1939 C.A. Wunderlich still sold saxophones, engraved with with a swastika and an eagle, used by the German Luftwaffe. And in 1939 Ernst Hess Nachf. from Klingenthal offers on the last page of his
catalog offers a Saxie, a little saxophone-like instrument, because "how often do small village bands not like having a saxophone". In the same catalog Hess proudly announces their making the new Herms-Niels fanfares with which the glory of Hitler was praised at the Reichsparteitag in 1938.
Eventually though, not many Jazzophons and Normaphons were built. Despite the beautiful names they were a failure, and soon they disappeared from the market, to become a collector's item, stated collector Ernst W. Buser. Some 10 Jazzophons are known to be extant.
It's not sure however, whether the declining appreciation of jazz in Germany was the reason, or the only reason, for Jazzophons not becoming a big hit. It seems likely that the failure of the Jazzophon has more to do with a mismatch between supply and demand, even before the Nazis came to power. "It May Look Like a Musical Instrument, but It's Really an Edsel," wrote the New York Times in 2005, in an article in which the Jazzophon figured among other musical instruments that were unsuccessful. The Edsel is the Ford Edsel, in the late fifties the example of a commercial failure. And then there was the global crisis of the late twenties, which gave saxophone sales worldwide a major blow. From 1929 to 1932 exportsales of the German musical instrument business decreased from 100,52 to 22,66 millions of Reichsmarks, less than a quarter of the Golden Twenties. And in the end, they were a little difficult to play as well....
Klingenthal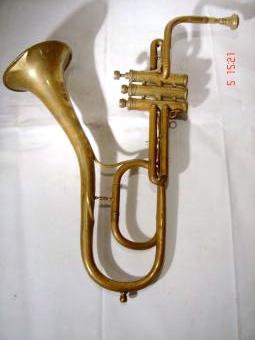 Stated to be made around 1955 in Klingenthal, about 5km from Graslitz on the German side of the border, this instrument was offered on Ebay in 2005.
Sax shaped trumpet, maker unknown
Rotary valved
Rotary valved trumpet, coll. Diether Grosche, Düsseldorf, Germany ditto, coll. Trompetenmuseum Bad Säckingen
Left a sax shaped trumpet with rotary valves. Probably German. The Trompetenmuseum in Bad Säckingen has another sax-shaped trumpet with rotary valves. Their catalog says: "Anonymous. Germany, late 20's or 30's. Related to, but not identical to the Normaphon.'
The Trompetenmuseum also has a sax-shaped trumpet in low-F, from Germany or Austria, around 1925:

coll: Tromptenmuseum

Keilwerth
Keilwerth Toneking 3000 serialnumber 27963, collection Jim Glass.

Between 1982 and 1986 instrumentmaker Julius Keilwerth in Nauheim build a sax shaped trumpet with one bell, named Toneking 3000. Keilwerth originally worked in Graslitz but moved after the war to Germany. This trumpet was devised by Gerhard Julius Keilwerth, grandson of Julius. He states that there were build no more than 100. Jim Glass bought one from Matt Stoecker.

It pops up on Ebay every now and then. There's one in the collection of the Trompetenmuseum in Bad Säckingen, serialnumber 312600.

Gary Anderson performed in February 2010 on the Keilwerth Toneking 3000 (from 2.16"). He said the lead pipe comes at an angle that makes pressing it to the lips a challenge.

DEG
DEG sax shaped trumpet. Left: formerly collection Eric Totman, California; right: collection Band Museum, Pine Bluff Arkansas

In the 1980's DEG also build a sax trumpet. DEG was started in 1965 in Lake Geneva, Wisconsin USA, by Donald E. Getzen after he split from the Getzen company in Elkhorn. Aurelia Hartenberger owns one.

In 1994 trumpeter Nargo apparently played on a DEG-trumpet

with the Tokyo Ska Paradise Orchestra in Gold Rush, live at NHK TV (from 0.40' and from 2.29')

Andy Taylor and Eddie Veit

<![if !vml]>

<![endif]>
<![if !vml]>

<![endif]>
Jazzophone from Andy Taylor Flugelbased sax shaped trumpet from Taylor Sax shaped trumpet from Eddie Veit Trumpet from Peter Rieblinger

British manufacturer of instruments Andy Taylor build another sax shaped trumpet, called Jazzophone. "

We built this example because it hadn't been done for years and was a lot of fun. It was primarily used at exhibitions as a conversation piece." Taylor also build a flugel based instrument.

'There was never any commercial intent with them at all', he says. 'The flugel based one was far easier to play due to being able to control how you held it against the chops.

'

German instrumentmaker Eddie Veit made a sax shaped trumpet as did Peter Rieblinger from Tandern.

Jupiter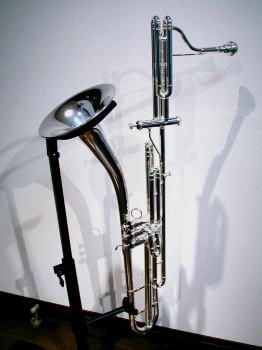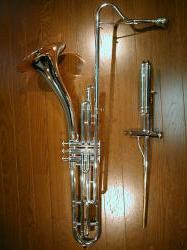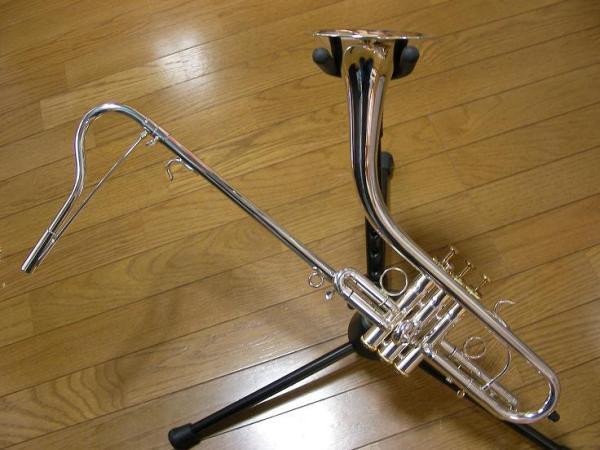 In the nineteens Jupiter in Taiwan built the Excite. Trumpet version R77L and a trombone in F with an additional valve, the VL33L.
Project horns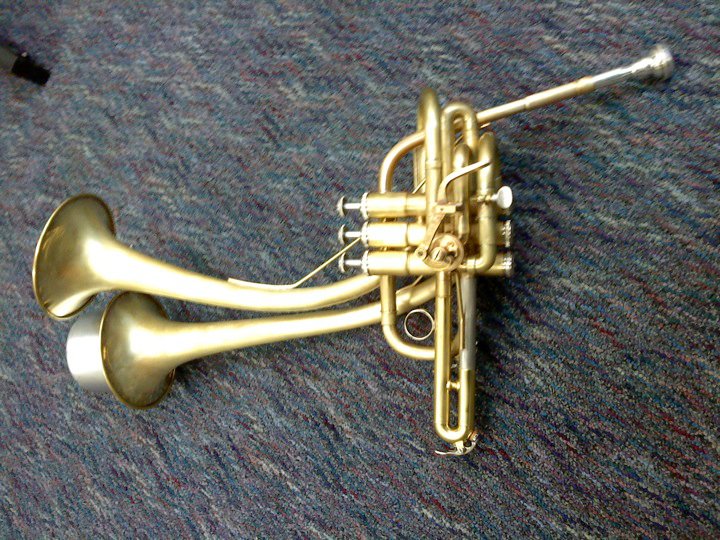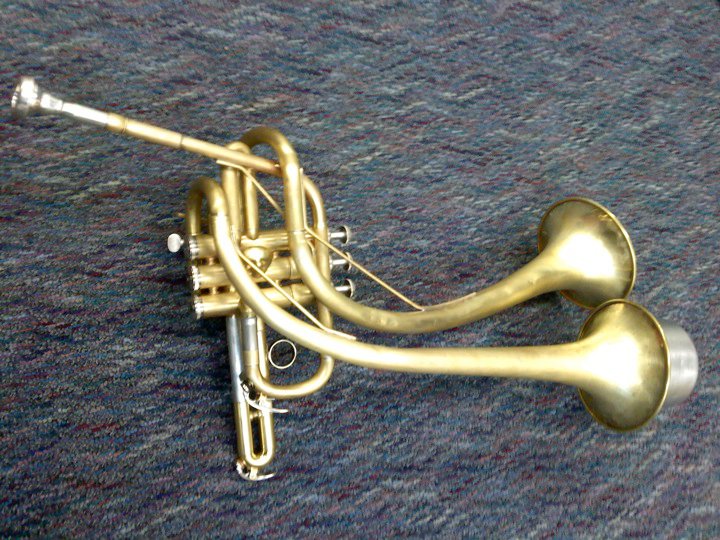 Sean Mason from Factoryville, Pennsylvania, made this double belled, trigger action, saxophone shaped trumpet as his final project at Renton technical college. It was made out of Yamaha trumpet parts and the rotor off of a G bugle. One of the bells is a tuning bell to make sure the bells play in tune with each other. It is currently on display in the band instrument repair classroom at Renton tech. Here Sean demonstrates it.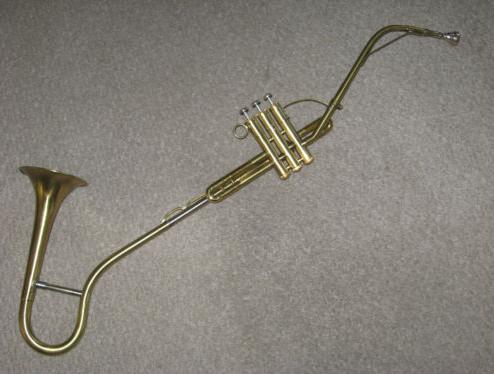 A saxy trumpet build in 2010 by Doug Teeter from Fresno, California, early Bundy valves and bell, bore size .460, with left hand brace to get sufficient mouthpiece pressure, for sale on Ebay, October 2011.
Shew-Horn and others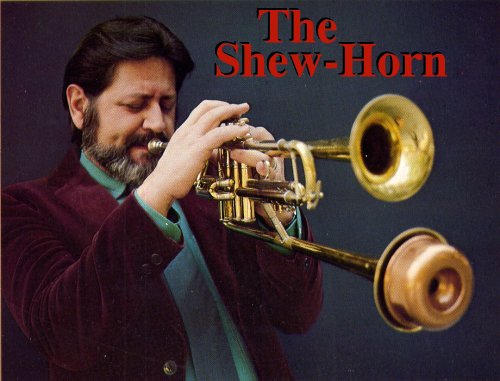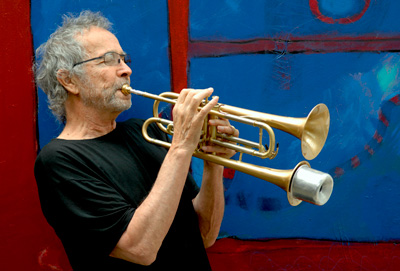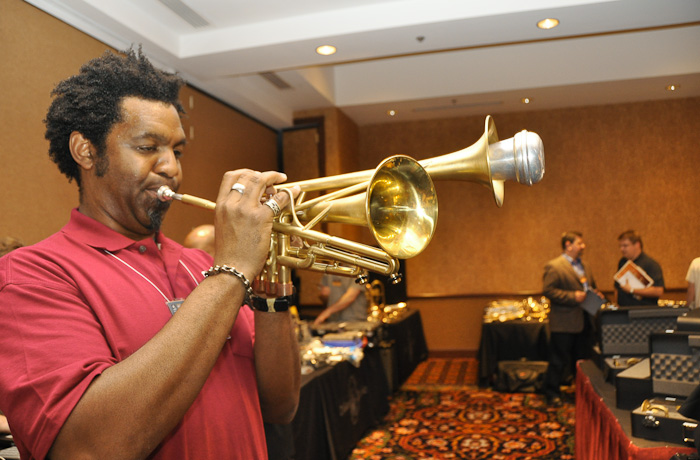 Bobby Shew on the Shew-Horn Herb Alpert on the Kanstul Gemini Herb Smith on the Jason Harrelson
Dave Monette is told to have made a double-bell horn for trumpeter Bobby Shew (1941, Albuquerque, New Mexico). He named it Shew Horn with the advice: 'try thinking about your sound more'. Here's a soundclip of Shew playing 'Stompin at the Savoy' on his Shew-Horn, for BBC's 'Pebble Mill at One' in Birmingham, somewhere in the eighties.
Zig Kanstul in Anaheim, California, US designed this double-belled 'Gemini' together with Herb Alpert. It's using a rotary valve to divert the air between the two bells. Here's Herb Alpert playing 'It's only a paper moon' on it, Oakland, California US 2008.
Trumpeter Herb Smith played on a Jason Harrelson double-bell trumpet at the International Trumpet Guild conference 2009 in Harrisburg, PA, US, the Harrelson Medusa. Jason Harrelson himself shows it here.
Thein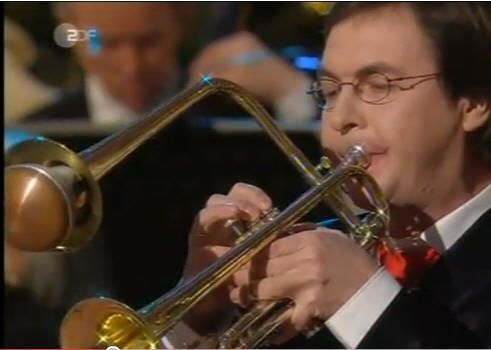 Max Thein in Bremen developed the double bell trumpet on which Matthias Höfs performs 'Eine Spanische Weihnacht', together with the Berliner Symphoniker.
Billy Brooks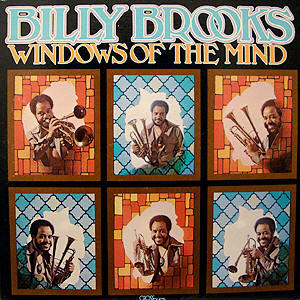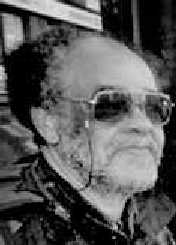 Billy Brooks
Julius Edward (Billy) Brooks (1923, Mobile, Alabama - 2003, Amsterdam) performed regularly on his double bell trumpet, de Skoonum-horn. He had it patented in the Netherlands and England since 1965 and dreamed of a small factory to make it a sales success. That never happened.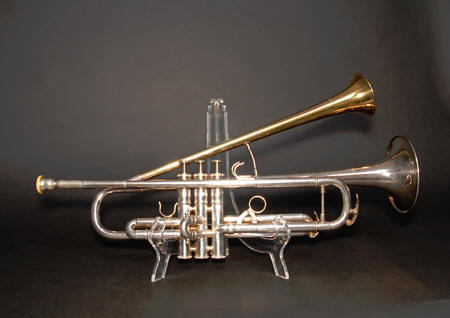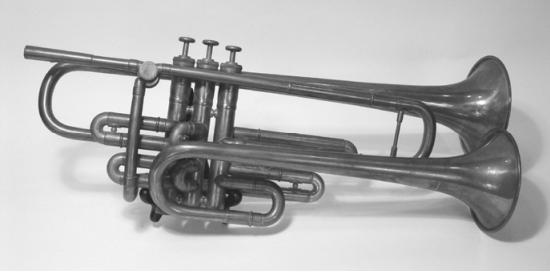 Skoonum Calicchio 1973/74 Duplex horn Calicchio mid 1960's
Dominic Calicchio from Los Angeles made in 1973/74 the Skoonum trumpet, now in the HWM-collection, in his workshop in Hollywood, with a brass upper bell. Some 10 years before, in the mid 1960's, he made another experimental double bell instrument.
Marco Blaauw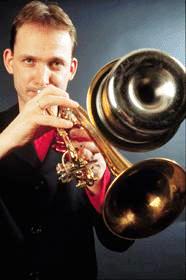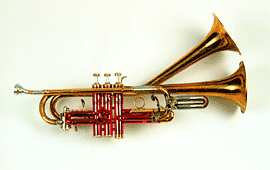 A self designed - red - double bell trumpet from Marco Blaauw, build in 2000 by Dieter Gärtner, from the company Gärtner und Thul in Düren, Germany. The trumpet uses the standard three valves, plus a fourth and fifth valve. The fourth valve enables one to play quarter-tones over the whole range of the trumpet. The fifth valve is for changing between the two bells, that are made of slighly different material. He used it amongst others for the Peter Eötvös composition Snatches of a Conversation which calls for a double-bell trumpet enabling the soloist to switch quickly between different mutes. Here Marco tells more about the history of this trumpet.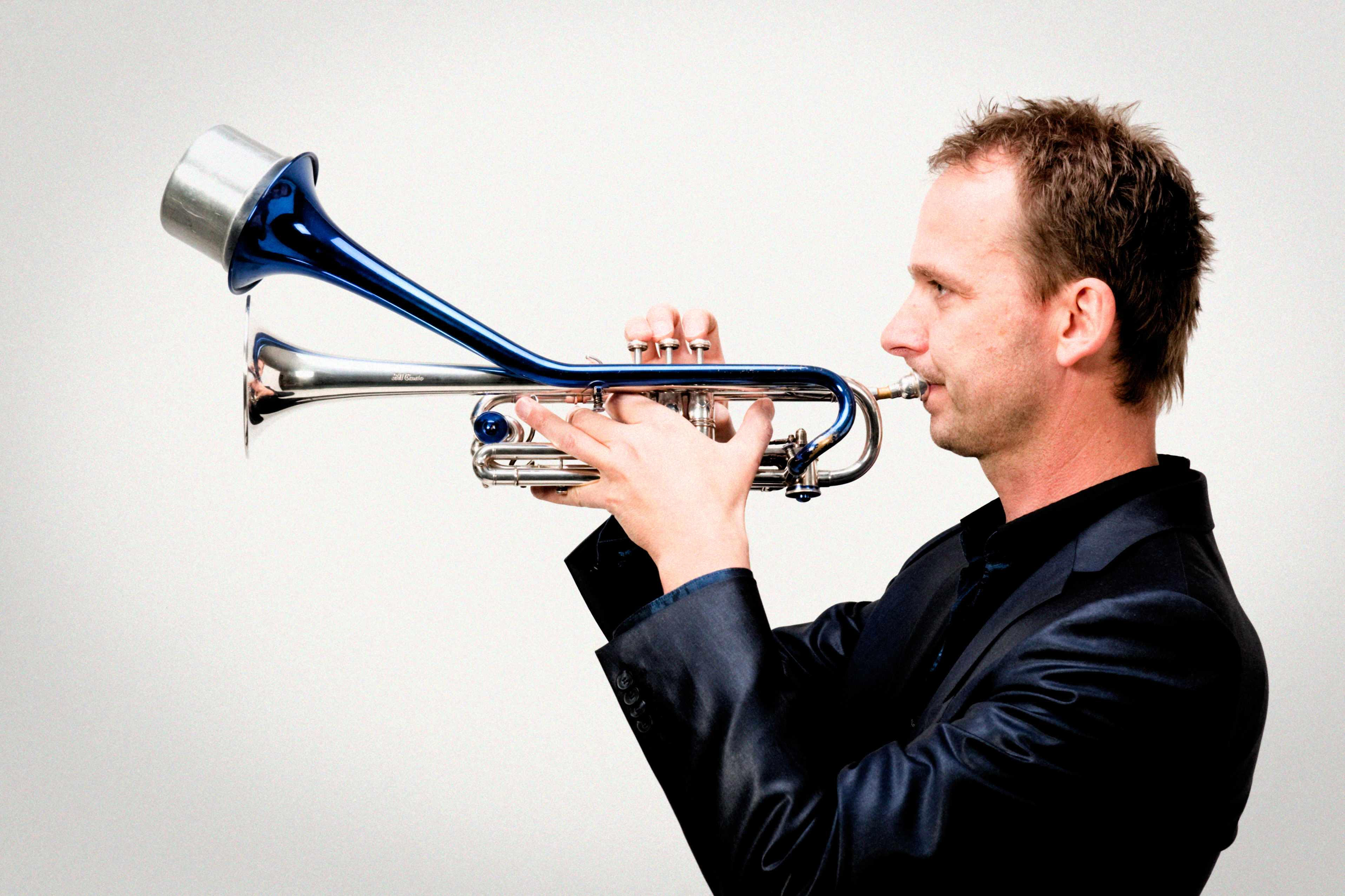 Blaauw also had made a second - blue - trumpet, a few years later, that made it possible to direct one bell backwards.

Yamaha

Brandon Ridenour demonstrates the Yamaha double-bell trumpet

Canadian Brass trumpeter Brandon Ridenour asked Wayne Tanabe from Yamaha to make him a a double-bell trumpet to perform Snatches of a Conversation with the Los Angeles Philharmonic New Music Ensemble. The instrument was configured from a Yamaha piccolo trumpet (YTR-9835) valve casing, a YTR-9636 Eb trumpet leadpipe, bells from an Artist Model C trumpet and a rotor from a french horn. Ridenour had performed the piece before on the Ben Neill mutantrumpet.

Ben Neill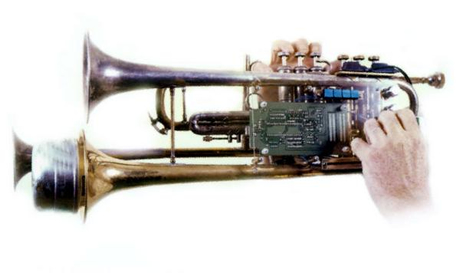 The mutantrumpet is designed by Ben Neill and is a triple belled electro-acoustic instrument. The mutantrumpet has been evolving since the mid-1980's when Neill worked with synthesizer pioneer Robert Moog to design its first electronic interface. In 1992 Neill made the instrument fully computer interactive. The new mutantrumpet includes 8 continuous MIDI controllers and 8 momentary MIDI controllers in addition to the acoustic note and volume control from the instrument's natural sound.
The mutantrumpet
Echo-bell cornet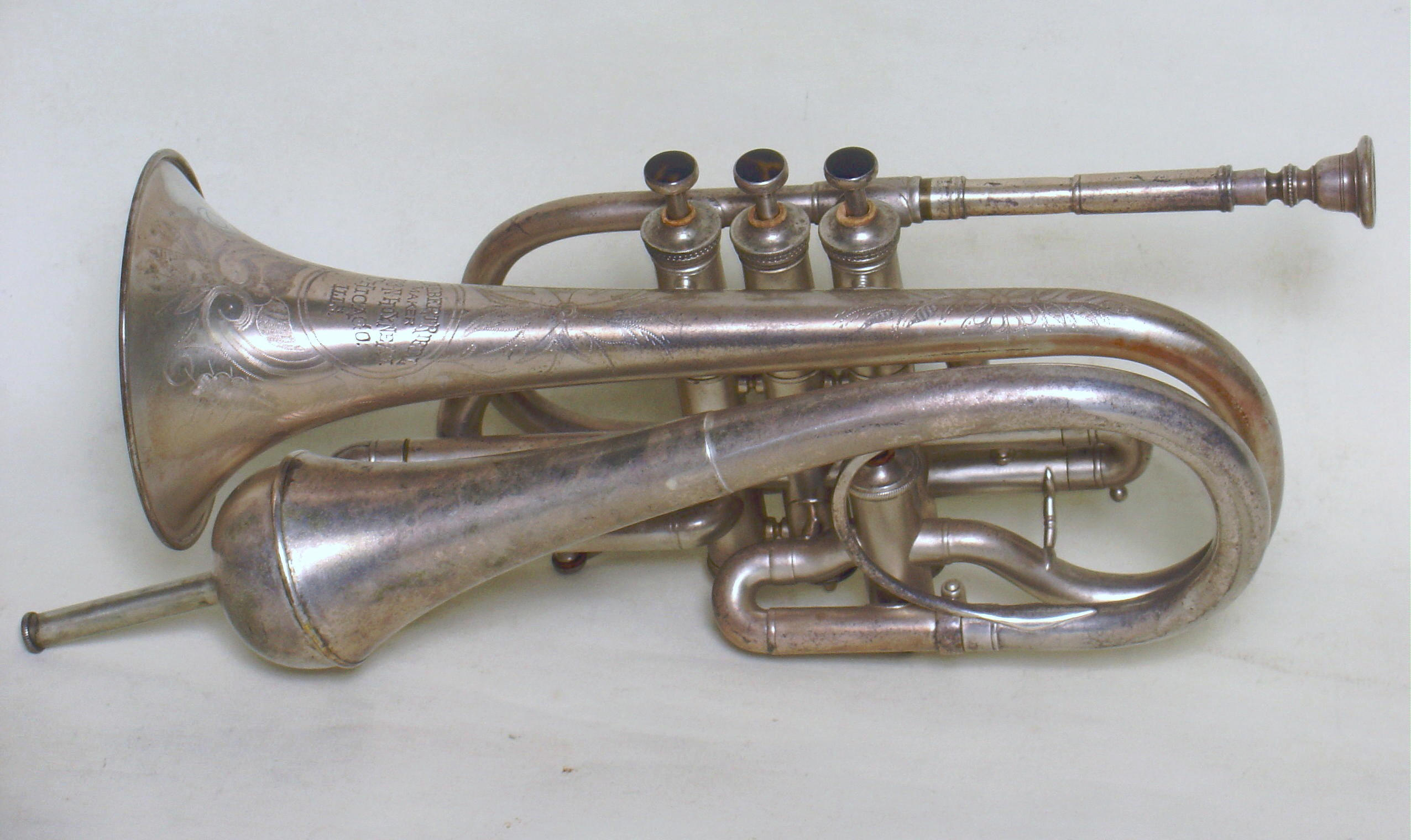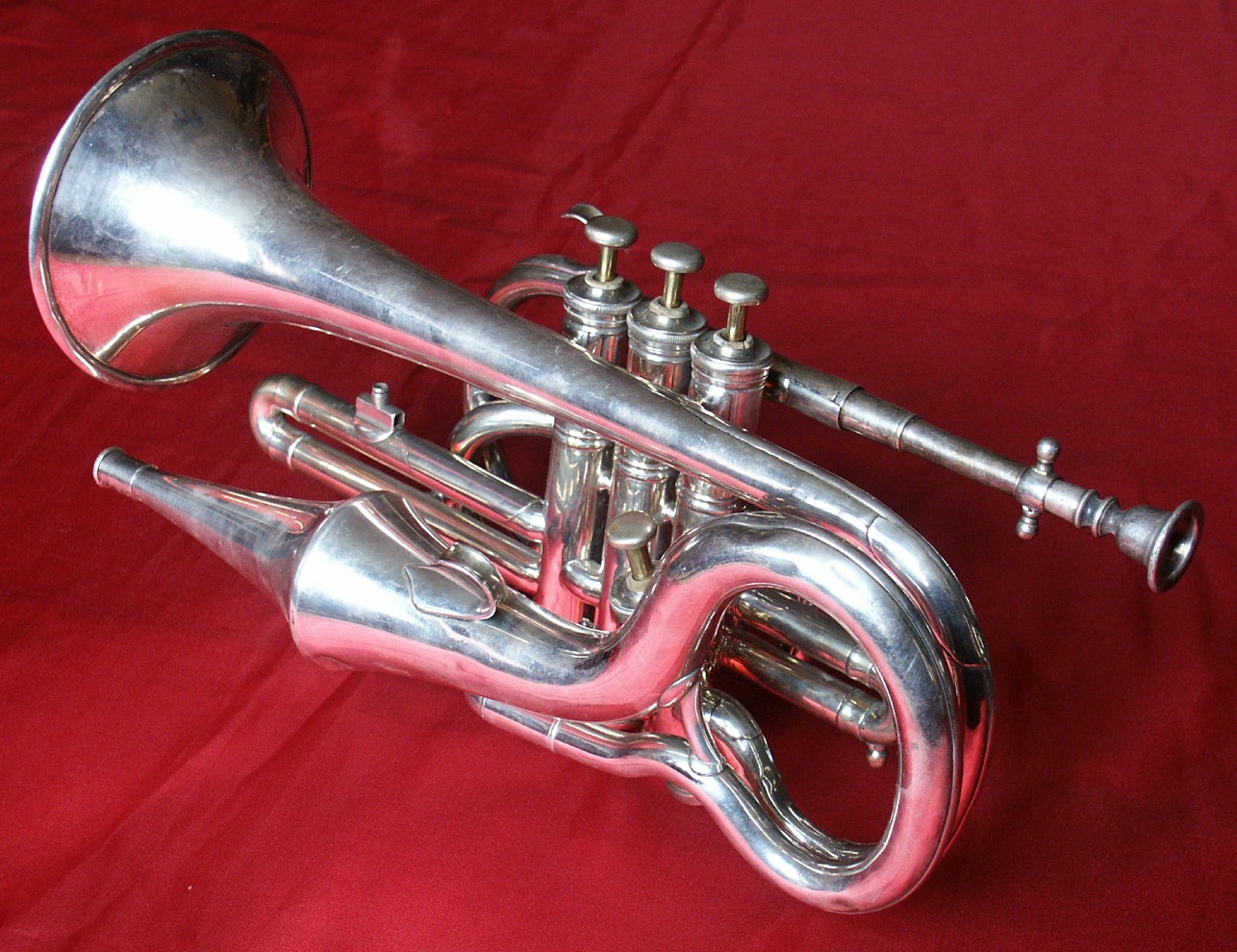 Echo-bell cornet by Adalbert Riedl, coll. Irving Bush Echo-bell cornet by Jérome Thibouville Lamy, 1890, coll. Denis Balande

Echo trompet Carl Schäfer Hannover ca 1900, coll. Musikinstrumenten Museum Berlin
The echo-bell cornet was a popular type of instrument in the nineteenth century. The echo-bow was invented by Friedrich Adolf Schmidt form Cologne and patented in 1859. The echo bell, which the 4th valve brings into the windway in place of the normal bell, may originally have been intended as an instantaneous muting device. Before 1900 the echo cornet became quite widely used in Germany, France and England, with soloists performing ingenious pieces with echo effects. In the twenties they were seldom sold because of changes in taste and the upcoming jazz trumpet. Nowadays cheap versions can be obtained from India.
Here Crispian Steele-Perkins performs on an echocornet.
Gautrot-Marquet
An unique combination of a trumpet and a flugel (?) with a double bell, one inside the other was offered for sale from Uruguay on Ebay in november 2011. The outer bell measures 7 inches, the length of the instrument is 17 inch (without the missing leadpipe). The bell reads 'Gautrot-Marquet Breveté s.g.d.g. Paris' (breveté s.g.d.g. meaning: patented without governmental garantee). Gautrot was a French manufacturer of musical (brass) instruments and an inventor from the second half of the 19th century.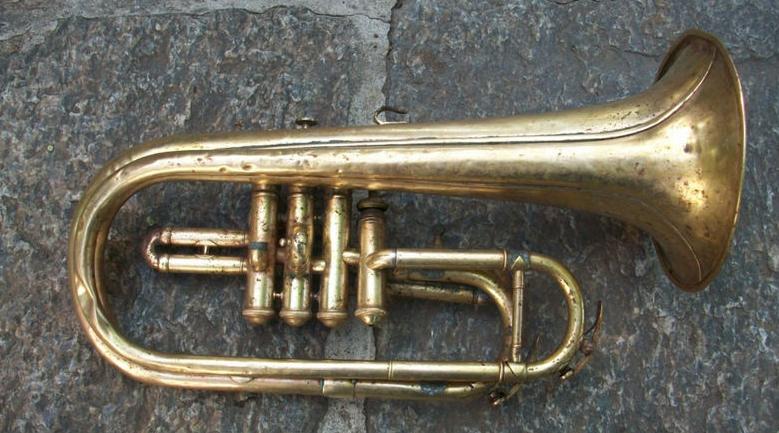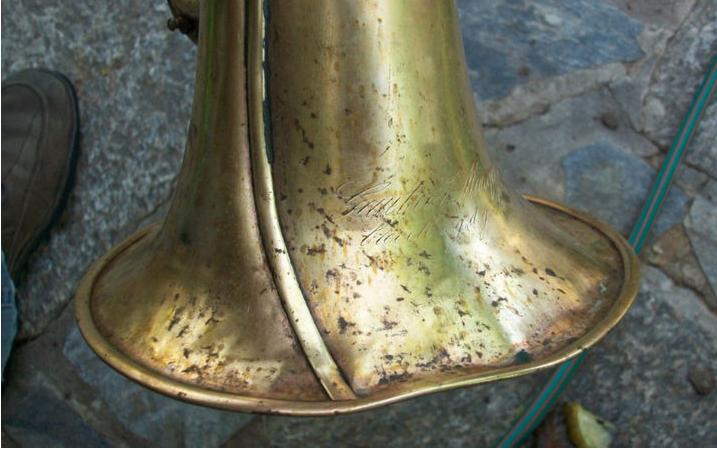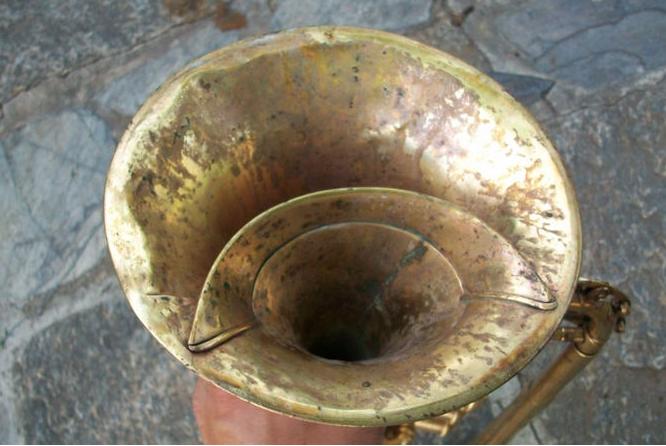 Gautrot-Marquet
Flugel-cornet combination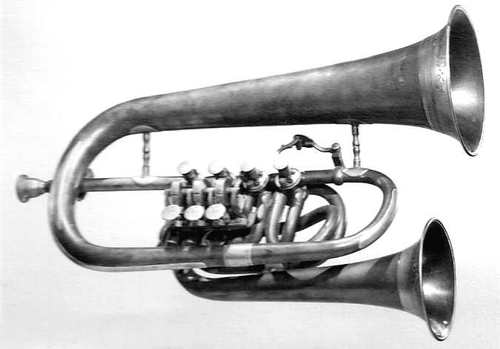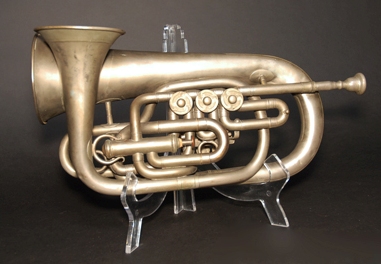 A combination of a flugelhorn and a cornet, dated 1890, was made by the Italian instrument maker and inventor Guiseppe Pelitti in Milano. It is part of the collection of the Metropolitan Museum of Art in New York. It's an instrument in C with rotary valves. Also from Milano but probably from a later date (ca. 1919) comes a flugel/cornet-combination from D(ante) Rancilio, in the HWMC- collection.
Berkeley


A cheap Chinese double bell trumpet, designed by Dr. Lee. Pitched in Bb and A (or Bb and C, that's not quite clear) from BerkeleyWind. With a rotary valve that directs the air through the smaller bell, stated to sound like a piccolo trumpet.
Project-horns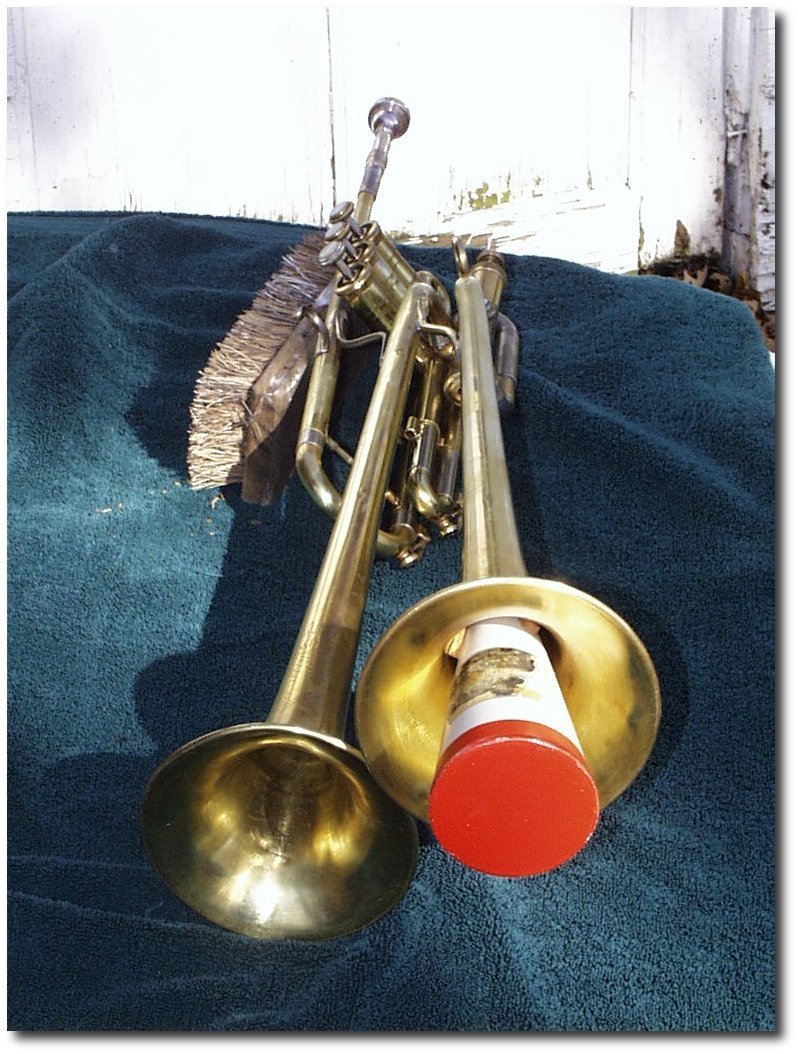 Double bell trumpet by Tim Brown, Galesburg Illinois, US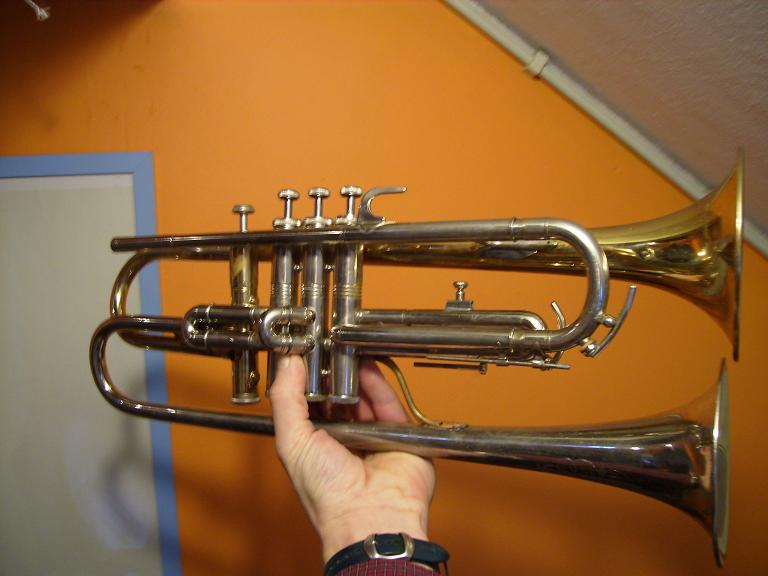 Project-horn by P. van Asselt
The right bell (with mute) of the project-horn Tim Brown build, is from the original Holton Collegiate trumpet. For the left one Brown, from Galeburg, Illinois, US, used a bell from a private label 'Temple' trumpet. 'Temple' is the name of a music store on the US east coast many years ago. The project-horn of P. van Asselt is made of an Amati and a Yamaha.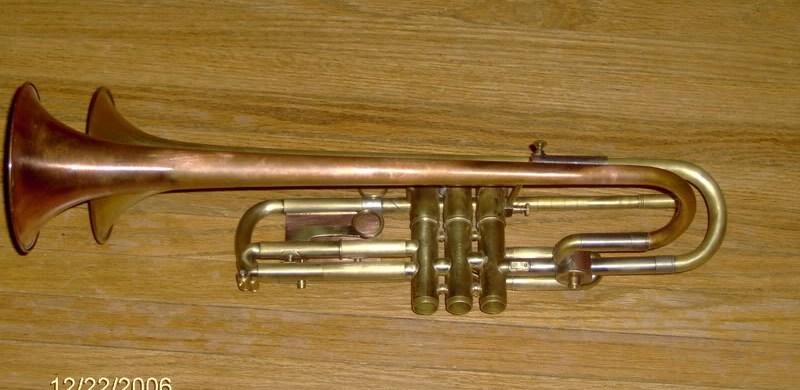 A trumpet with a double bell made in 2006 by Michael del Quadro from Del Quadro Custom Trumpets in Wichita, US for Pat Shaner. A rotary valve switches between both bells. Del Quadro used an Olds Ambassador valve block and has put a Pilczuk leadpipe on the front end of the horn.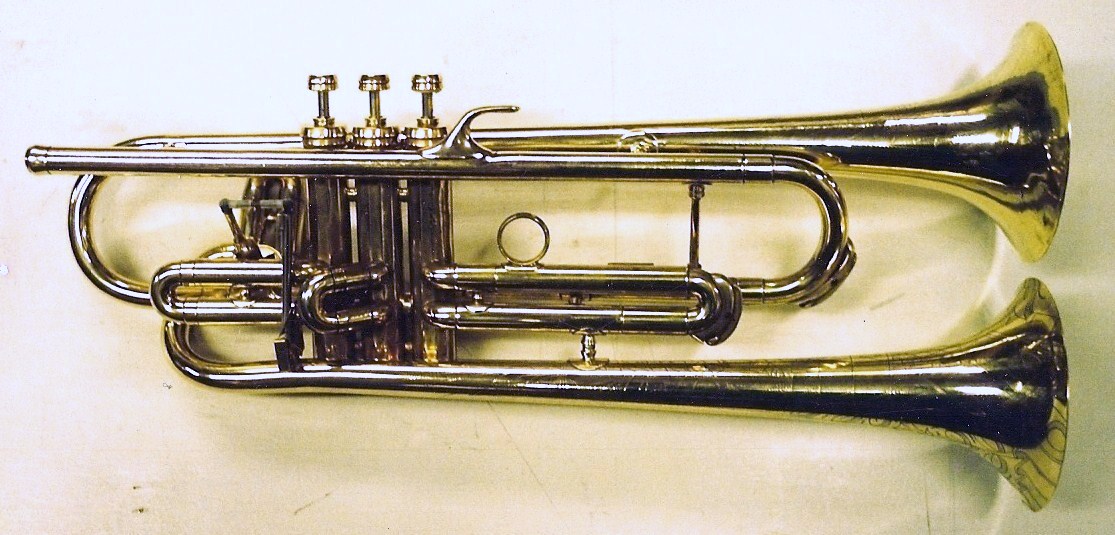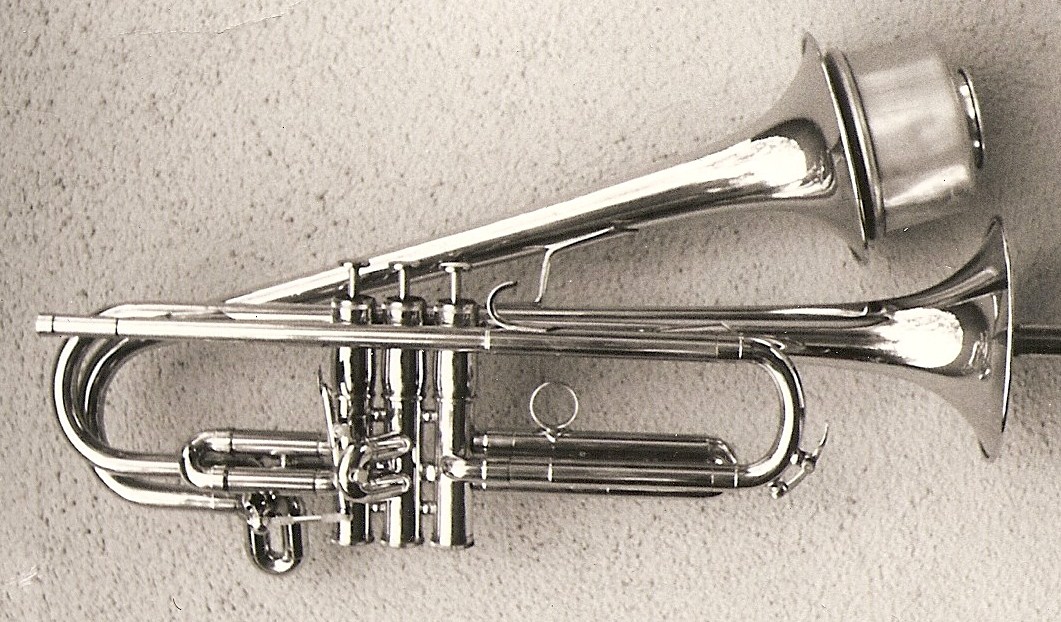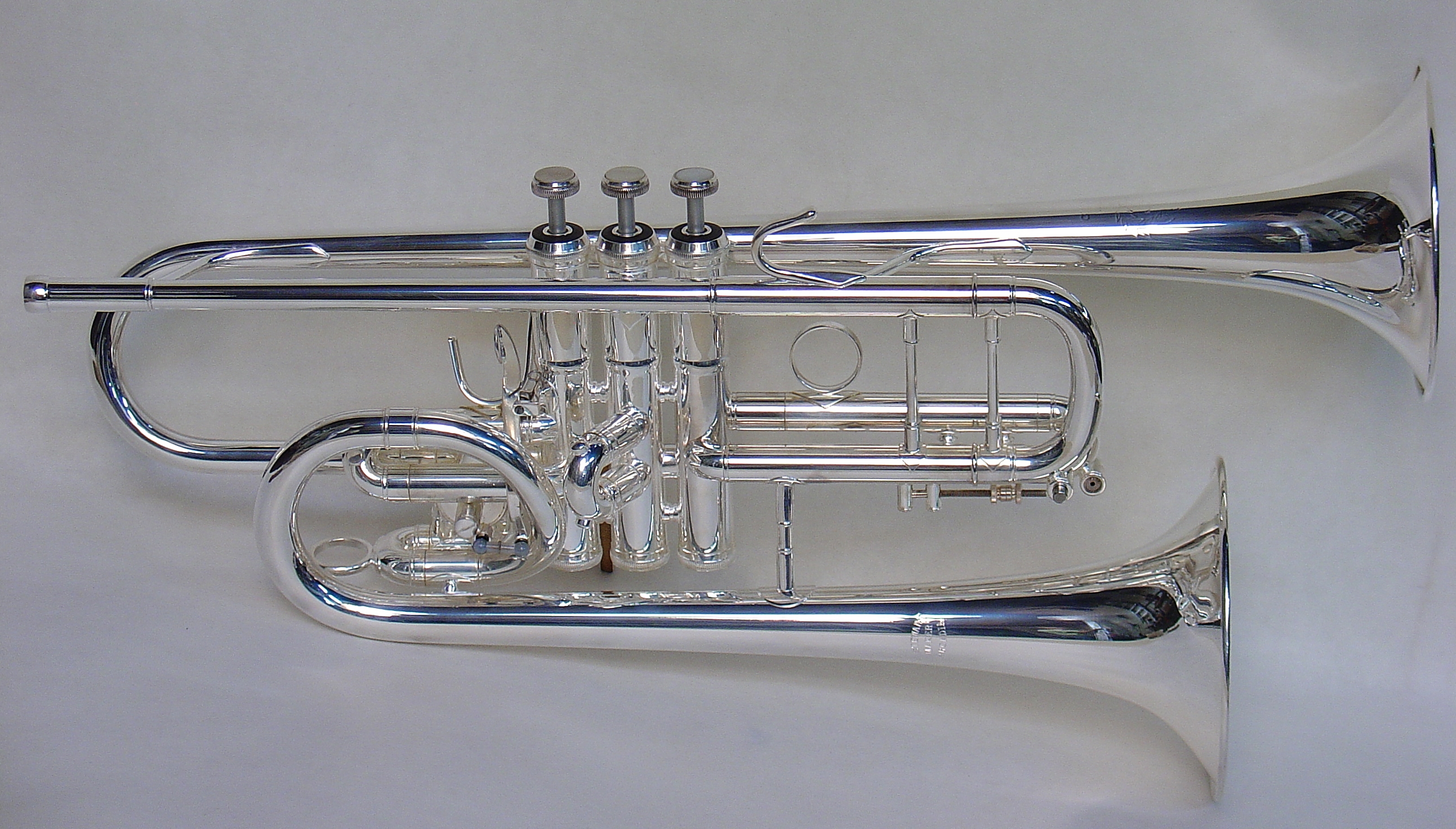 Robb Stewart in Arcadia, California, made three double bell trumpets in the last 30 years. You'll find an explanation here.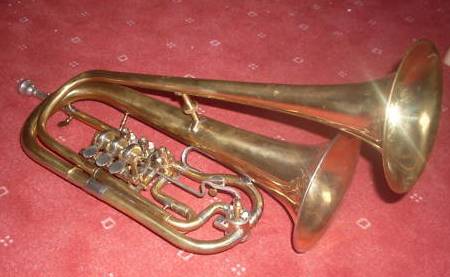 A Melton Egerländer flugelhorn combined with a Benge trumpet bell. An idea from a German player of Donauwörth, made in 2010.
Jazzophon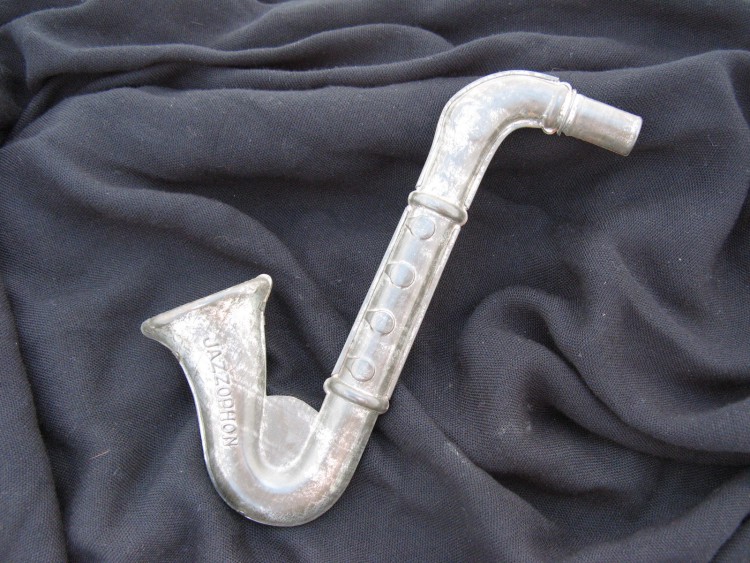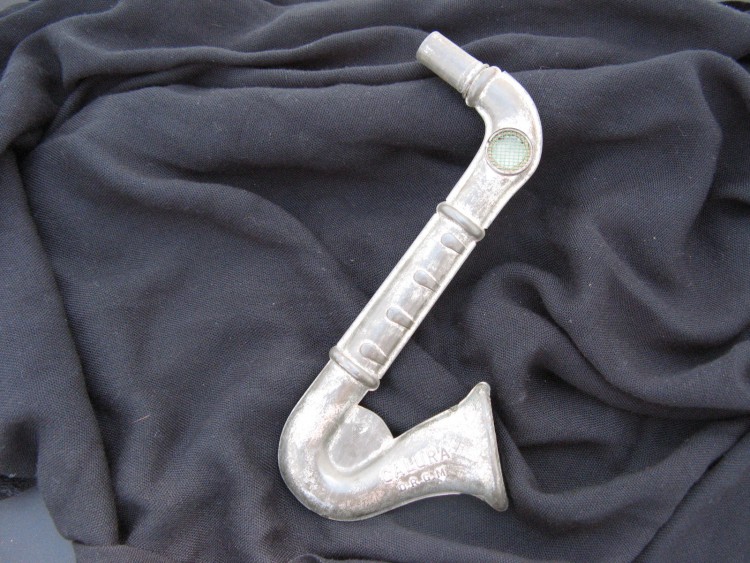 Jazzophon Calura D.G.R.M. coll. Gerard Westerhof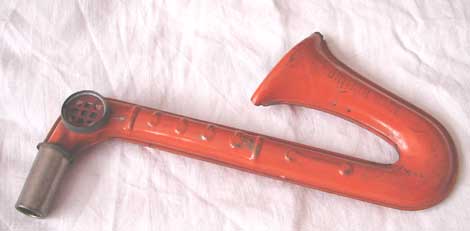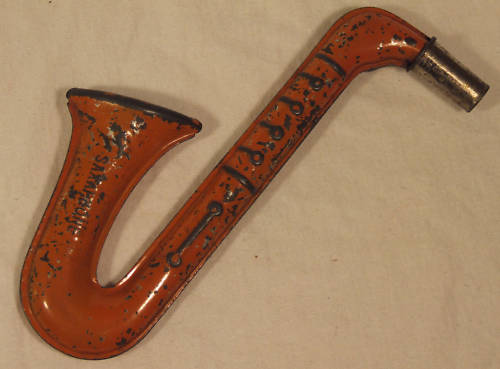 Saxaphone, Britisch made kazoo, ca 1930, coll. Pete Thomas Saxaphone
The name Jazzophon is also used for other sax shaped instruments. Before World War II the German company C.A. Lux from Ruhla (Thüringen) made a 20 cm tall metal sax shaped kazoo called Jazzophon. The sound source is a vibrating membrane. They registered the design also at D.R.G.M. on August 18th, 1932. The British saxaphone is an almost identical instrument from the same period.
Similar instruments with a reed instead of a membrane were called Luxophon or Sirenophon. Both are of German origine, the Luxophon, measuring 4 3/4" tall, has a D.R.G.M registration.
<="286">
Sirenephone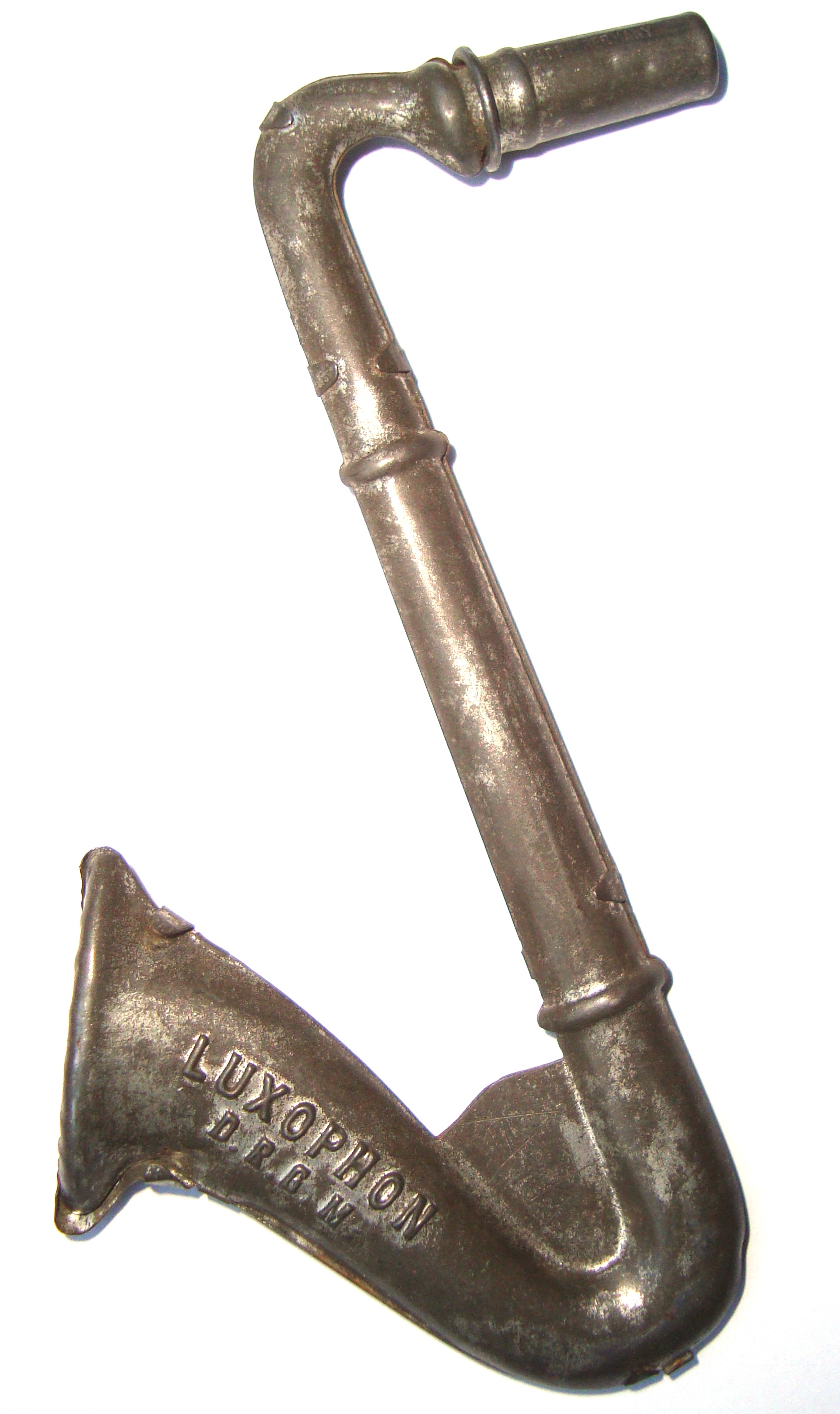 Luxophon, coll. Gerard Westerhof
On October 13th, 1929 the Bubbling Over Five recorded a piece called Get up off that Jazzophone during sessions in Richmond, Virginia, for the Okeh Record Company with James Simons ("Blues Birdhead") on a harmonica, labelled as jazzophone.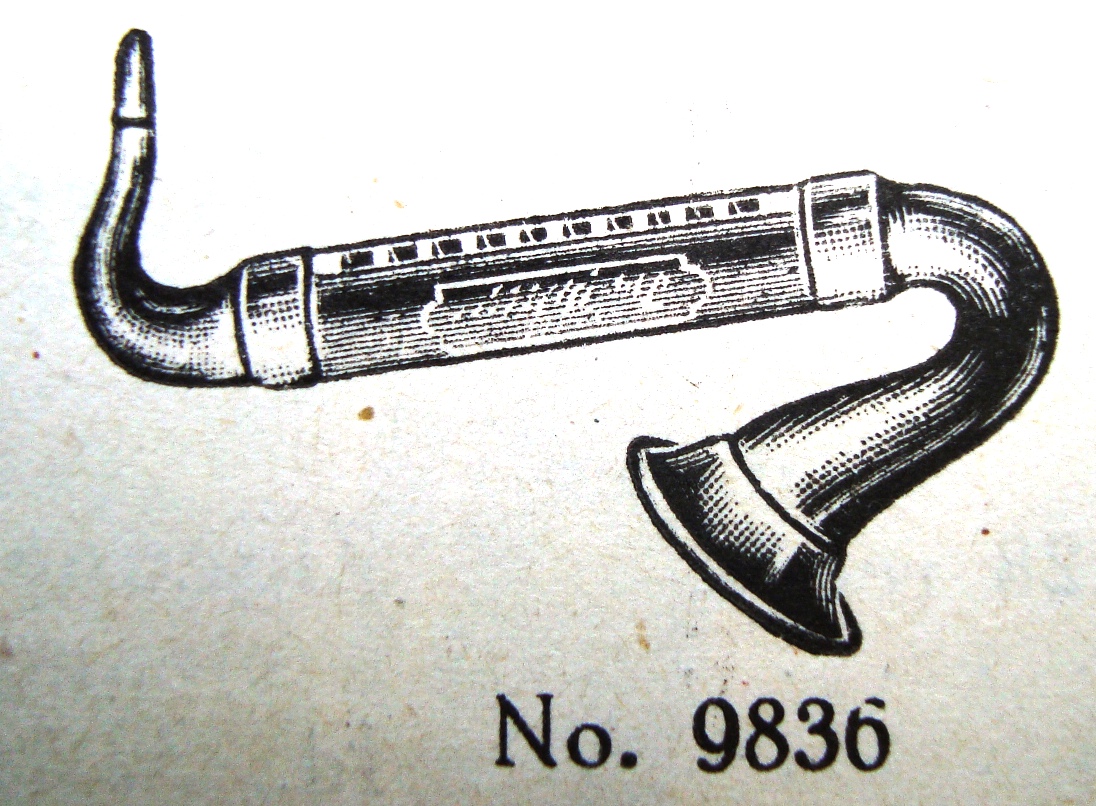 Adler also sold the Saxoharmonika, a saxophone shaped harmonica.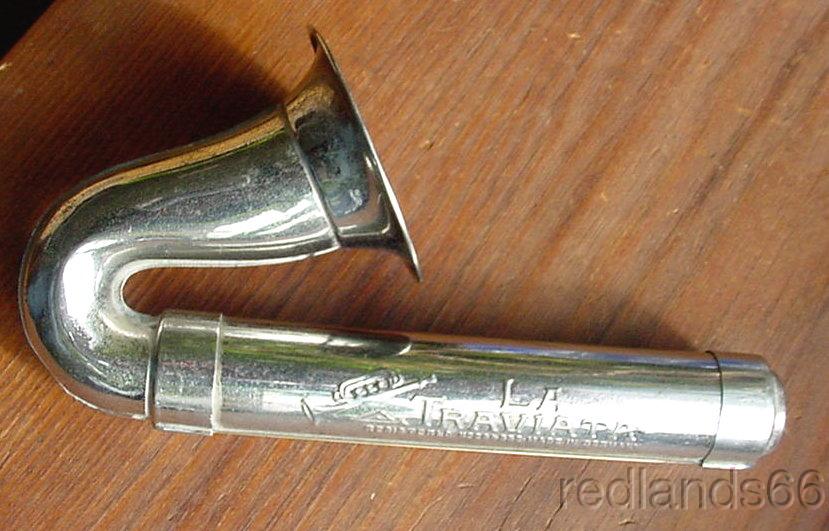 La Traviata, made in Germany, registered under number 264852, Ebay November 2010
Zobo and Songophone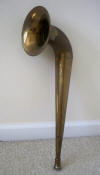 Zobo saxophone, coll.Gerard Westerhof

Songophone saxophone, mouthpiece missing, coll. Gerard Westerhof
The Zobo saxophone dates from the end of the 19th century. Under the Zobo brand W.H. Frost in New York marketed a whole line of brass kazoo's from 1895 onwards. On Januar 7th, 1896 he had the patent registered. Besides the saxophone there was also a cornet, a trombone and a tuba model. A set of 4 listed for $8,25 and made musical instruments affordable. Some years later, in 1900, Louis N. Crakow patented the Songophone, an almost identical instrument. Crakow first dealt in Zobo's together with Frost. The Songophone was also traded as Sonophone.
Couesnon Saxie and Couesnophone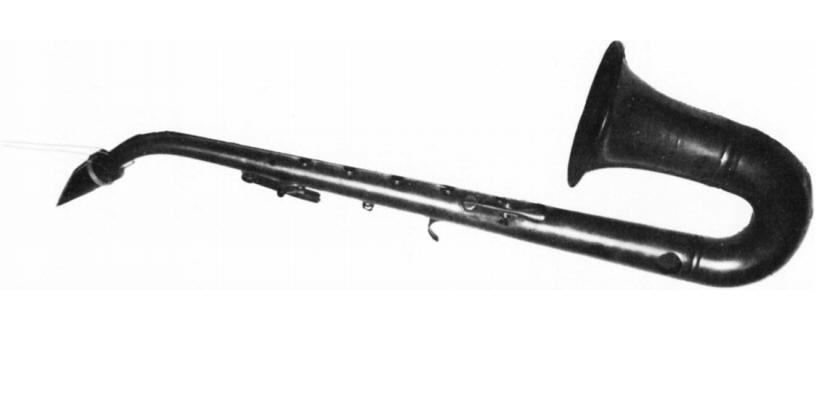 coll. the late David Rycroft
coll. Pete Thomas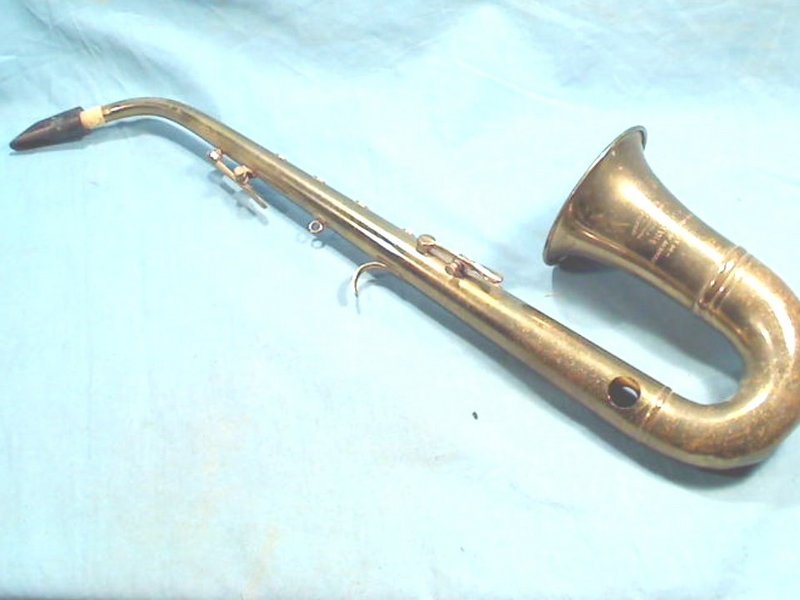 coll. Sid Glickman
The Saxie is a sax shaped instrument with a 62 centimeter u-bend brass tube and bell and a reed mouthpiece. The inventor and patentholder of the instrument was Frederick B. Hammam of Baltimore, Maryland, the US-patent dating from June 3rd, 1924. The Couesnon company in Paris must have quickly bought the patent rights as their name is on the four now know extant saxies. It was described to the 'ever-widening circle of admirers of the saxophone' as 'the little brother of the saxophone', but easier to play. The small number of extant saxies shows that it was an interesting experiment but not a commercial succes.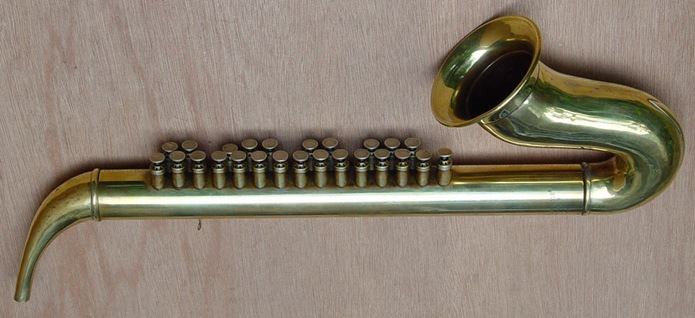 Couesnophone

Couesnon also produced the Couesnophone, patented in France in 1924 (patent number 569294). The instrument is described in the patent as a 'saxophone jouet' (saxophone toy). This proved a little difficult for English-speaking people to pronounce, so it was commonly Anglicized as "queenophone", but it was even more commonly known as goofus. The instrument did resemble a sax but it was actually a free reed instrument with the reeds being selected by piston-like keys arranged in a similar manner to the keys of a piano – one row of keys giving a C major scale, the other row arranged in alternate groups of two and three to give the sharps and flats. It was played professionally by early jazz musicians like Adrian Rollini.

Saxonette en Saxello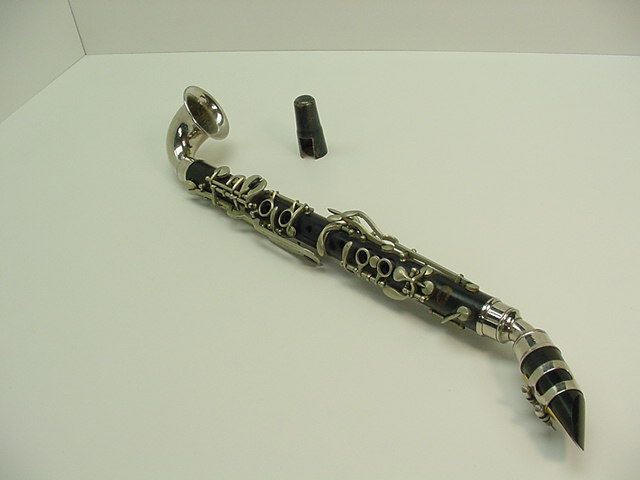 Saxonette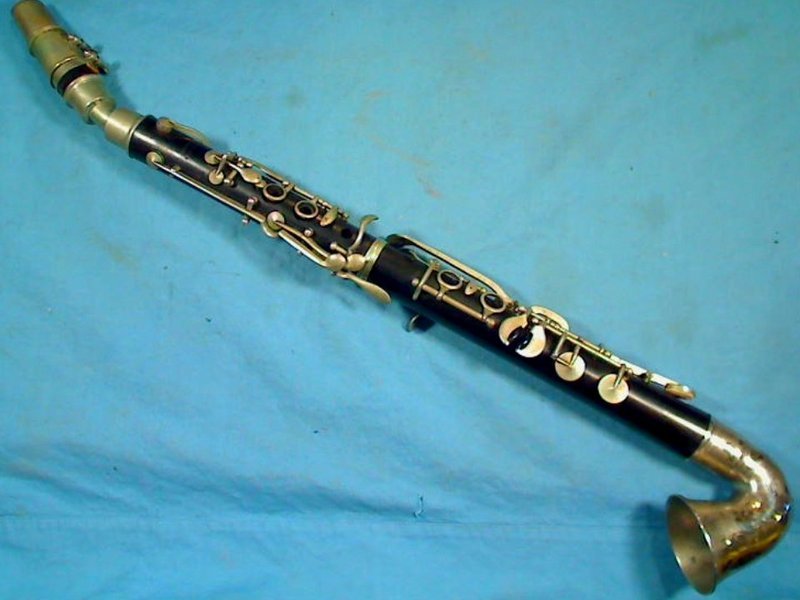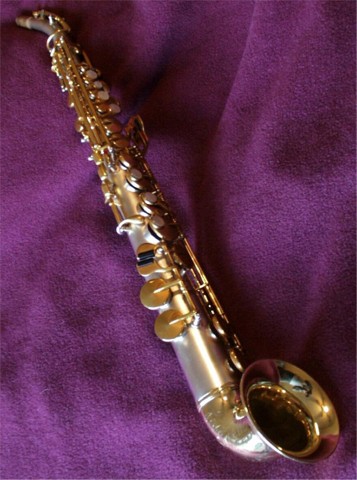 H.N. White Saxello

The saxonette, also named a French clarinet, pitched in C, A or Bb. It has the approximate overall shape of a saxophone, but unlike that instrument it has a cylindrical bore and is therefore categorized as a clarinet. The instrument is also known as the 'Claribel' and 'Clariphon'. Saxonettes were first produced by the Buescher Band Instrument Company, between 1918 and 1921.

The Saxello is a soprano-saxophone with a bend neck and bell, made by H.N.White. The instrument came on the market in 1924-1925, the patent dates from 1926. Due to the economic crisis, production ceased in the thirties. Recently, new saxellos were build, by Rampone and others.

Sax-nietphone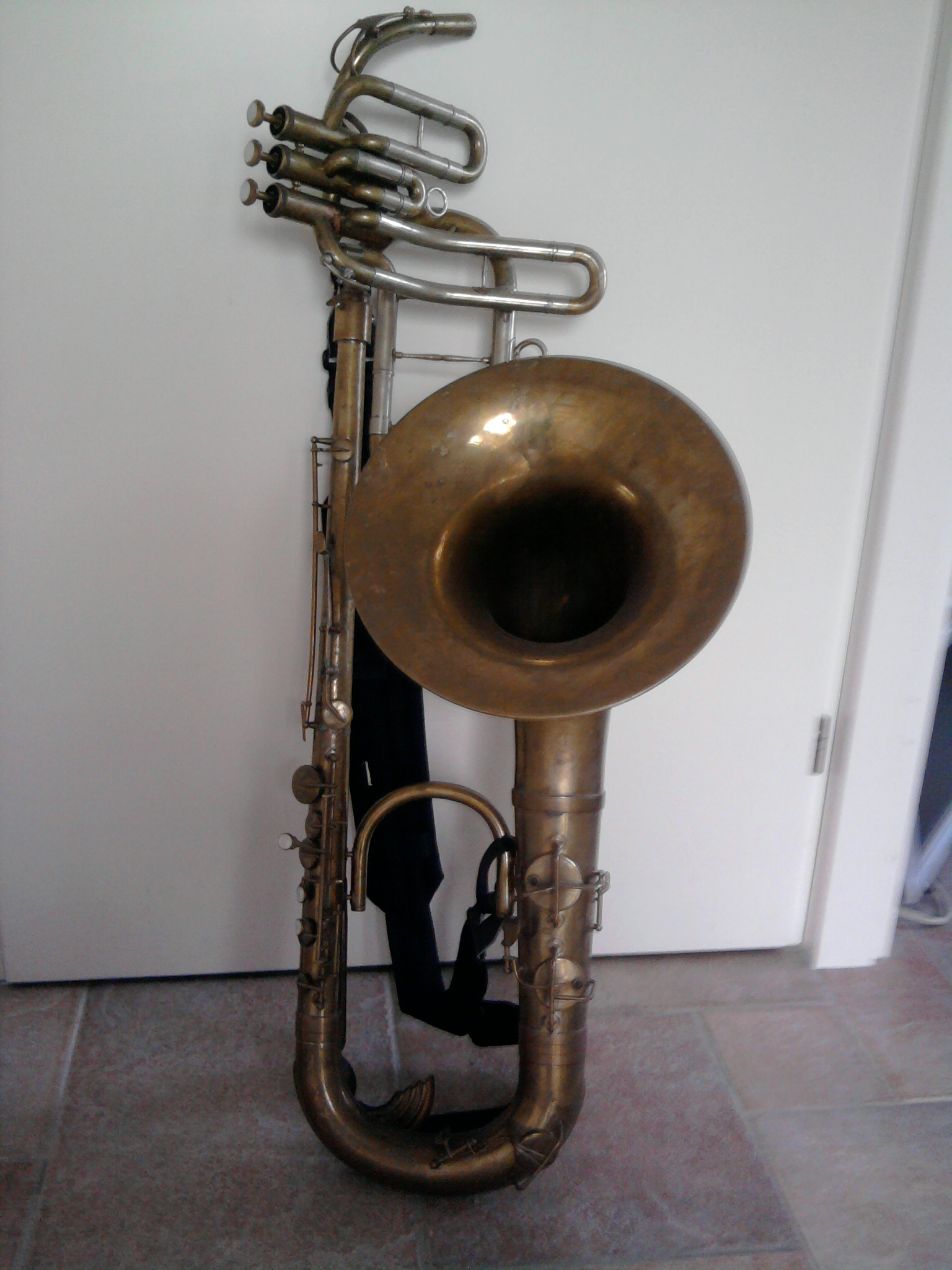 Sax Nietphone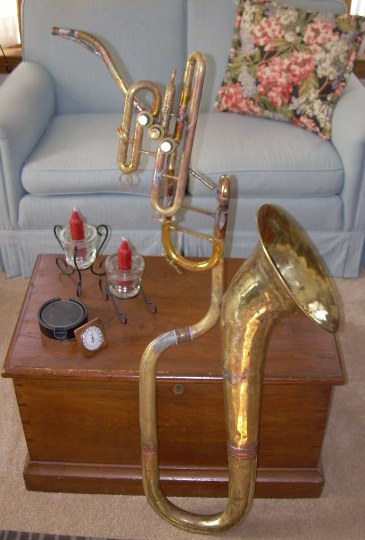 Rebuild King baritone
Somewhere around 2003 Paul van Bebber, former employee of Schenkelaars, manufacturer of musical instruments in Eindhoven, built the Sax-nietphone using a lot of different parts. He built the instrument for street musician George Glandorf of Schellinkhout . "Getting it tuned was the most different part", George says. Here George plays it in his Nuts and Notes act, performing in Hengelo (Ov), 2009.
To the right an old King 1165 baritone, reshaped by Ian Church from Seattle.
Sax-o-tuba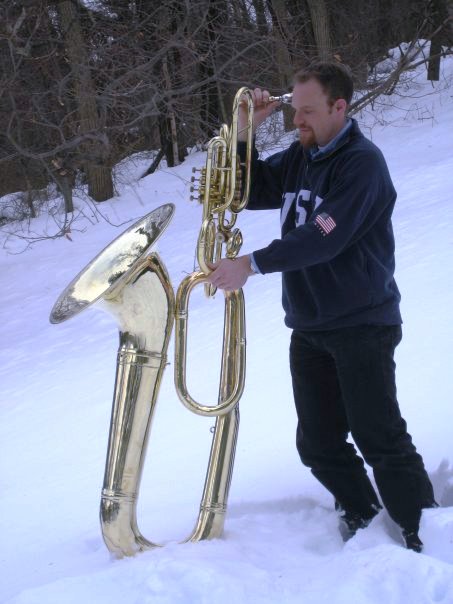 Tim Sullivan and the Sax-o-tuba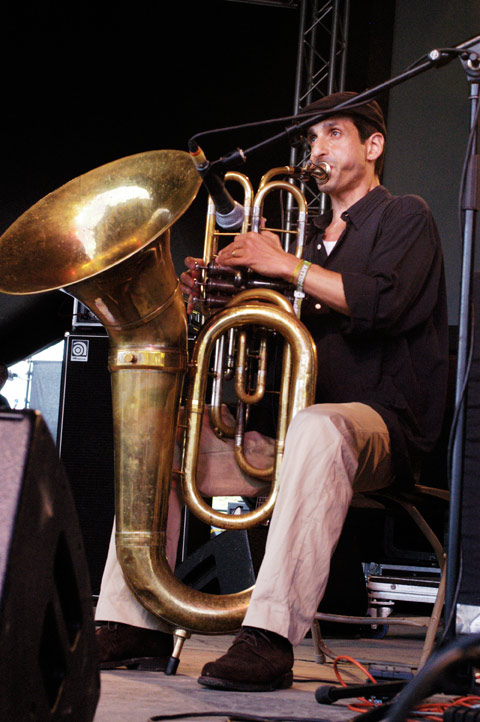 Oren Marshall playing the Orenophone
An interesting experiment is this sax-o-tuba, build in 2010 by Harvey Hartman from Boyertown (PA) and Tim Sullivan (Lausanne). It's made out of a King 2341 Bb tuba, cut back to a CC-tuba. It's played by tuba-soloist Sergio Carolino from Portugal, and named Lusophone. The adjective 'Lusophone' means Portugese speaking. To the right the Orenophone Mike Johnson from the UK build for Oren Marshall. Marshall performs Bach's Badinerie from the Orchestral Suite No 2 in B minor on it.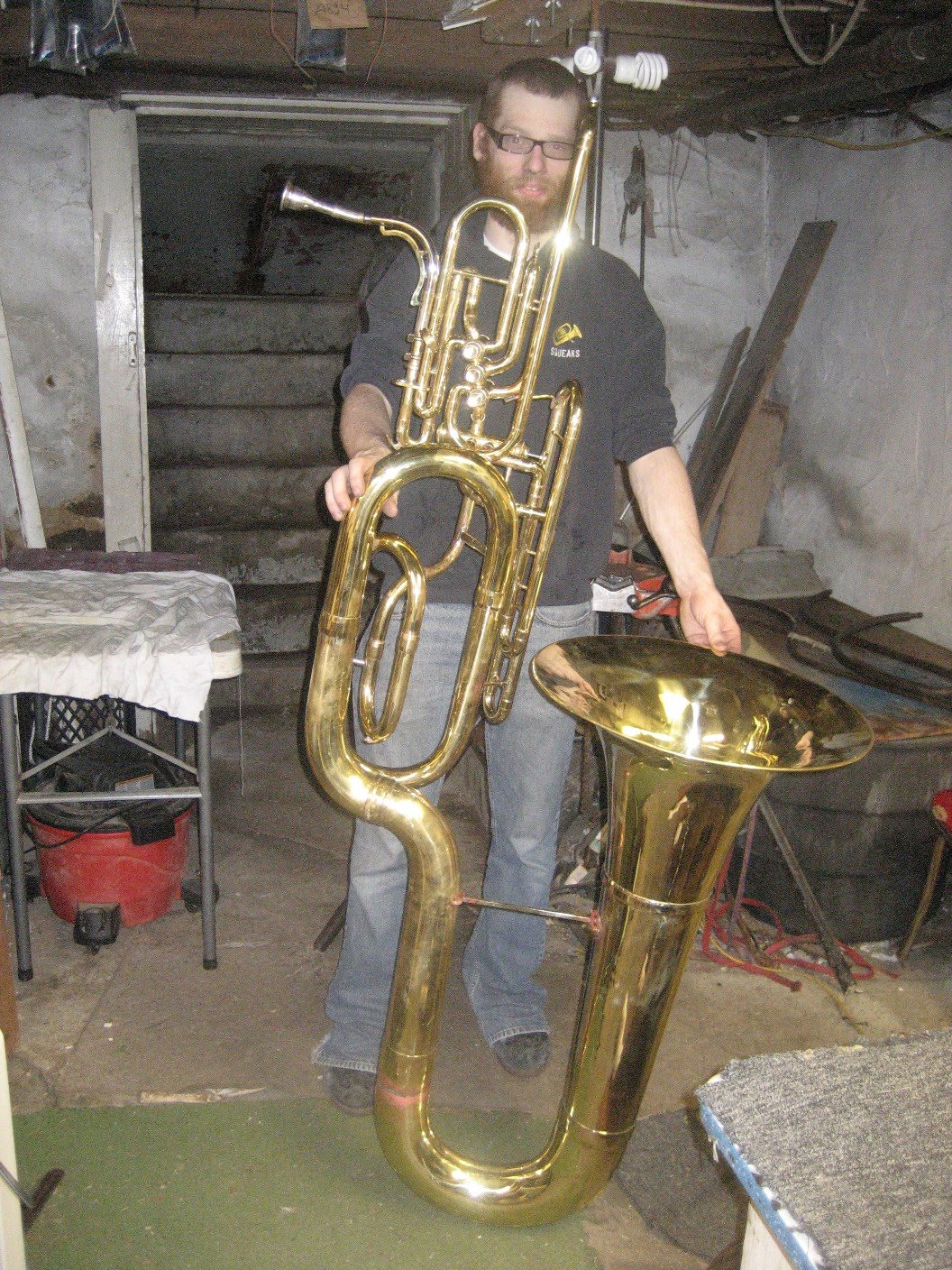 Ian Church with the Jazzophone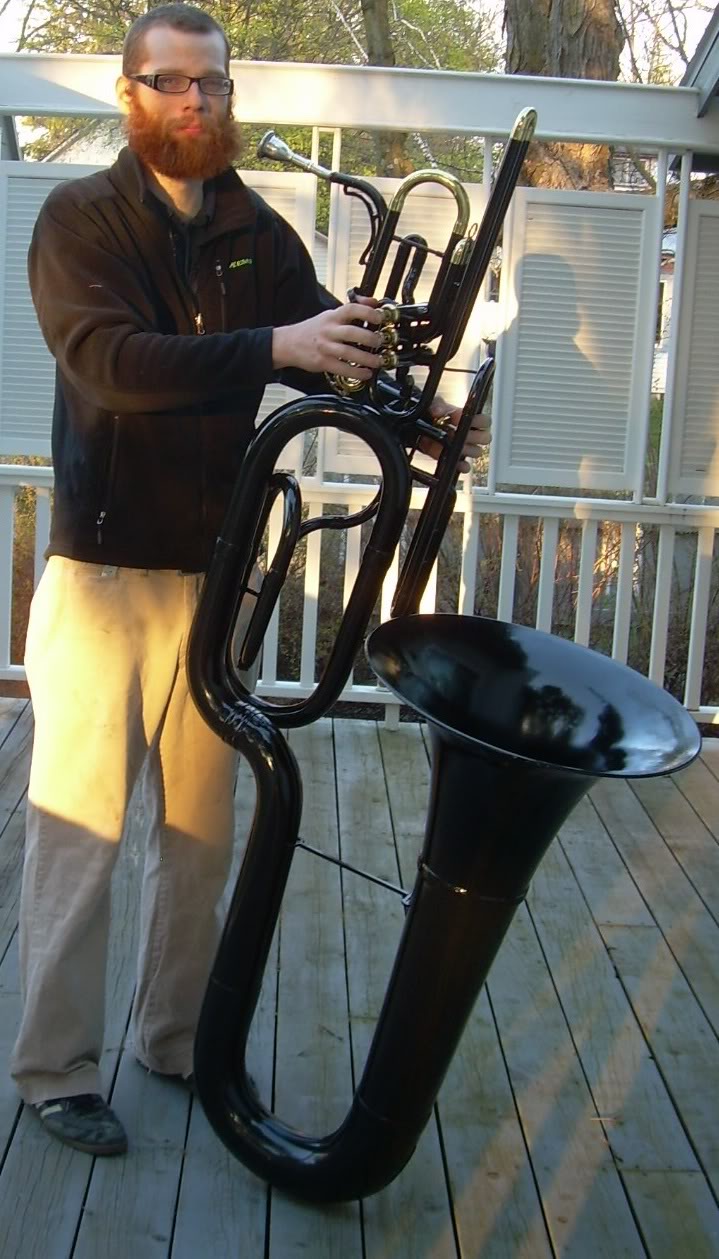 Finished with Rustoleum High Gloss
Ian Church and Harvey Hartman build this Jazzophone from a King 1140 marching tuba in 2011. A 19-inch bell, .687-inch bore and four valves. It weighs 26 pounds, measures 6 feet. For sale in October for $3100.
Sources
John Robert Brown, A View of the C. The Fall and Rise of the C-melody Saxophone
Ernst W. Buser, Für immer verklungen, Jazzophon und Normaphon, in Fox auf 78. 4, 66. 1987
Günter Dullat, Fast vergessene Blasinstrumente aus zwei Jahrhunderten: vom Albisiphon zur Zugtrompete, Nauheim, 1992.
Bernhard Habla, Das heutige Image des Saxophons unter besonderer Berücksichtigung bildlicher Darstellungen in der Werbung, in: Clarino 1996/2,
David Rycroft, A Six-Finger Hole Saxophone: The Saxie, in The Galpin Society Journal 52, April. 1999
Dr. Enrico Weller, Der deutsche und vogtländische Musikinstrumentenbau in den Jahren der Weltwirtschaftskrise, Vortrag 23-06-2009
www.return2style.de/homepage.htm
de.wikipedia.org/wiki/Jazz_in_Deutschland
de.wikipedia.org/wiki/Musikwinkel
Contact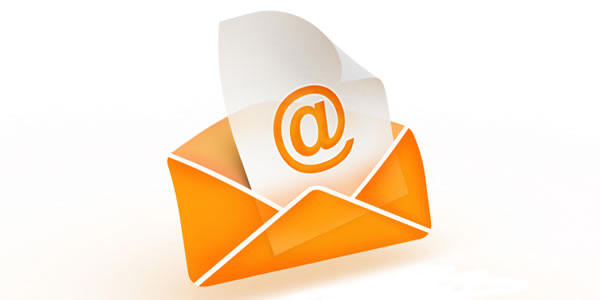 If you have any more information about the Jazzophon, the Normaphon or other sax shaped or double-bell trumpets, or have comments, corrections, suggestions or picture submissions, if you feel any content is in violation of copyright, or for information regarding this site's content, please contact me!
Links
www.rugs-n-relics.com/Brass/Brasslinks.html
bassic-sax.ca/version5/vintage-saxes/sax-shaped-things